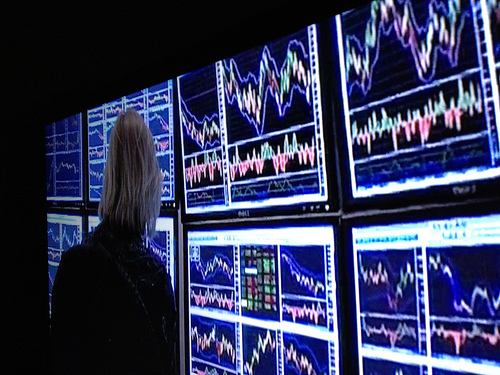 The forex trading climate was turned on its head during the latter part of the week, as central banks took steps to insure continued liquidity in an effort to boost growth and inflation.  The European central bank was the first to act with promises that nearly ensured that the central bank would increase or expand its bond purchase program when it met again in December.
Mario Draghi is a wordsmith and without really acting he used robust rhetoric to help push down interest rates and erode the value of the Euro.  Recently the Euro has been increasing in value against the U.S. dollar following a softer than expected September payroll report released in the beginning of October.  Once Draghi was done discussing the different options the ECB could undertake the EUR/USD tumbled.
Traders need to be leery of Draghi, as he can quickly change his tune if the rhetoric he provides becomes the backdrop for what he is looking to accomplish.  If he feels his comments toward quantitative easing have provided the necessary decline in yields and the Euro he will back off which is what investors saw this past weekend.
What is becoming clear to forex trading participants is that what initially was introduced as exceptional measures to cope with an exceptional situation, is quickly becoming the new normal and that markets have become increasingly reliant on central banks to react immediate with new measures to deal with risk factors. In this situation negative news on the economic front no longer fuels risk aversion, but actually drives stock markets, which are driven not by real developments, but hopes of further central bank stimulus.
The risks not only include the creation of new bubbles and excessive risk taking, but also a constraint of the freedom of central banks, which are forced to implement more and more easing but risk a market turmoil if and when the time for policy normalization is coming nearer.
Not to be outdone the forex trading arena was further surprised with a rate cut by the Peoples Bank of China.  The PBOC announced on their website that as of Saturday rates would decline by 25 basis points for lending and deposits.  In addition, reserve requirement would be reduced by 50 basis points allow banks to hold on to more of their money.
The forex trading market was a buzz with this news pushing riskier assets to fresh highs. The return to more neutral monetary policies is being pushed out far into the future and even if Draghi's strategy is not leading to new bubbles, even the central bank head admits that monetary policy can only support a cyclical recovery.
While China still has room to further drop rates, the Eurozone's structural problems remain largely unresolved and while central bank's continue to stress that fact, their policies also remove market pressure on governments to actually implement these reforms. Meanwhile political resistance against peer pressure and general guidelines to replace market forces is rising.