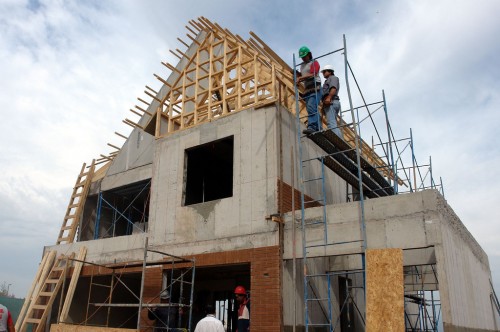 Let's be honest: rarely are our homes at 100% when it comes to wear, tear and maintenance, right?
The fact remains that there's always something that could be approved upon; however, it's often our finances that get the way of taking care of those nagging repairs or much-needed projects. Even so, it's crucial that homeowners make sure to act sooner rather than later when it comes to home repairs as neglecting them could result in peril for your pocketbook.
Why is finding financing for home repairs so urgent, though? Consider the following scenarios and situations which plague homeowners at a moment's notice such as…
1.Avoiding long-term, costlier repairs on your home due to neglect (think: a minor leak resulting in a major mold infestation)
2.Finding yourself in a situation where you need to sell your home "as is," with little time or cash on hand to spend on repairs
3.The need to increase the value of your home because you suddenly need to sell: even if you aren't dealing with an "as-is" situation, the more "put together" your home is, the better
So, what do you need to know from a financial perspective when it comes to dealing with these sorts of repairs?
Figure Out Your Financial Options
First and foremost, you're going to need to have a game-plan when it comes to finding financing for your repairs. Although it's obviously ideal to have cash, you're likely going to need to borrow if you want realistically take care of repairs that will likely go beyond your budget. Before assuming that you can or should place such projects on credit, it's a good idea to look into home improvement loans before getting in over your head financially.
Pick the Proper Improvement Projects
Let's say you've come into some cash or have acquired a loan in pursuit of home repairs and want to get the most bang for your buck. What then?
If there are no major repairs pending, begin by taking care of aesthetic repairs that potential buyers and passers-by will actually see.
While plumbing and electrical systems are obviously important, these sort of "under the hood" elements of your home aren't as prudent to home-buyers. After all, they want to visualize themselves in your new space and therefore might overlook a new air conditioner or plumbing system if they can take care of it under a home-buyer warranty. Just as some food for thought, remember that the living room, kitchen and bathrooms should be top priorities for winning over prospective buyers.
Be Prepared to Get Your Hands Dirty
Doing some of the legwork yourself can keep major money in your pocket, essentially avoiding the costly business of hiring an endless array of contractors. Although you'll likely have to hire some help, getting yourself involved in the process can help keep costs down. If possible, you may also want to consider purchasing materials for repairs yourself rather than leaving that cost to your contractor team.
Plan Ahead and Shop Around
The more time you give yourself in advance, the better you'll be equipped for all of the aforementioned tips. From shopping around for the best deals on loans and contractors to materials and beyond, it's very rare that everything goes done in an ideal frame of time. When you plan on hitting some snags in advance and know what to expect, the process becomes much less daunting and you save a pretty penny in the process.
Don't let yourself get overwhelmed by the process of financing your next home repair. With these tips in mind, you can keep your budget in check and make sure your home in tip-top shape.