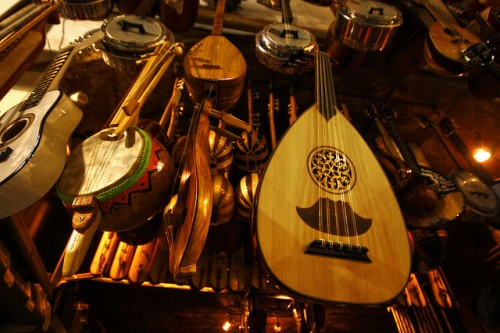 Bands are loved for their sound, something that comes from two things: their technique, foremost, and the equipment that they use. Choice of equipment for any band isn't simply about buying the latest and the greatest. Many world-famous bands go around playing on old, vintage drum kits, guitars, microphones and pianos that they love and trust, after all. It's about knowing what sounds good, and sticking with it once you have it.
Nevertheless, for a growing band, it can take considerable time to come by exactly the right kind of equipment for their sound. Until they see their preferences evolve and develop, it's important for bands to go through a great deal of equipment. This is easier said than done, of course. Music equipment tends to be expensive. How is a band that's barely getting by supposed to keep itself well-equipped? A number of ideas can help.
Your first rule: buy used
There's simply no reason to buy equipment new. Not only can you buy B-stock at modest discounts (demo equipment, floor models and the like), you can buy actual used equipment. Musicians offer older equipment for sale at online services such as eBay or specialized ones such as NinthBeat all the time. It's possible to come by both rare and new pieces of equipment. Grand savings are easily possible. You need to be sure that the equipment you are getting is the kind that is built to last, though.
Make your existing gear last longer
Often, it only seems important to buy new equipment when one hasn't invested enough time in learning the ins and outs of one's current gear. When you buy a piece of equipment, you need to truly invest yourself in it — learn about it on the forums and from fellow musicians, and practice endlessly on it. Every knob were but on even basic piece of equipment can be used for great musical results. It's important to remember that many Beatles classics were recorded on tiny, noisy four track tape. Unfortunately, it's more fashionable to buy new gear with new features, instead. It's important to learn to fight the urge.
Learn how to fix music equipment yourself
Not long ago, most music equipment was analog, and not very reliable. Musicians had to be handy with a solder iron to survive. With more reliable digital equipment, the DIY ethic is somewhat rarer today. There's still quite a bit that anyone can do, though. Rather than buying new equipment to replace old, broken stuff, it's always possible to learn to fix things. Doing so comes with the added benefit that you begin to disengage from the new equipment fever, and learn to focus on your craft.
The other advantage is that when you know the ins and outs of your equipment, you end up maintaining it better, as well.
Consider renting sometimes
Even if you do need new equipment, you may not need it for long. Great microphones and monitors, guitars and keyboards can all be rented. If you have a definite plan for how long you will need such equipment, you can work out a rental agreement where you get equipment that you would never be able to afford on a project without considerable outlay.
If you actually need to buy new equipment, first look at a local outlet
While buying online is all the rage today, it's important to remember that there are plenty of discounts to be had at physical music stores, too. It's always important to try out the local Musician's Friend, Sam Ash or a local brand. Local music stores always have always been great places to network, and also to find gigs. They tend to also be great places for discount equipment.
Network with other bands
There is no rule that says that every band needs to have its own equipment. You could establish contact with other bands in your area and share equipment. Not only can you trade tips, you can grow musically, as well.
Buy equipment that's well-built
Some brands tend to simply last longer than others. In the world of keyboards, for instance, Yamaha and Korg have a far better reputation for bulletproof quality than Roland. Among makers of headphones, Sony's units tend to last longer than others like Sennheiser. Musicians hold onto their Sony headphones for well over a quarter-century. Not only is well-built equipment a pleasure to use, it simply lasts forever.
Finally, if you're a touring band, do buy insurance. Not only do you always face the threat of equipment damage on the road through careless handling, there's always the fear of theft, as well.
David Chang is the co-founder of NinthBeat and a strong advocate for startups. David graduated from Columbia University and started his career in mergers & acquisitions at Bank of America where he continued at Expedia, Inc. He then joined his family business, Chateau International, a fast fashion handbag company, where he headed the business development team. In 2015 David pursued his passion in tech and co-founded NinthBeat.