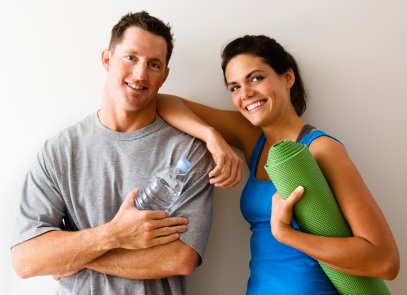 Listed here are five frugal exercise ideas to help you save and keep fit. We live in a world where nearly everyone says they want to be fit but many lack the discipline and determination to actually do it. Part of the issue that a lot of us have is the cost that is often associated with staying in shape. The cost to have a membership to health club is usually one of the first things to get knocked out of an already tight budget. If you are on a budget you can also say goodbye to any of those home food delivery services. While they promise you diet friendly meals they come at an incredibly high price that almost no one can truly afford. Before you throw in the proverbial towel and resign yourself to a life of butter thighs and flabby arms let's consider some of the ways that you can be fit and healthy without spending a fortune.
It is entirely possible to get plenty of exercise and eat well without breaking your budget, people have been doing it for years. Do not let yourself be fooled by the media and your peers into thinking that the only way to be healthy is to spend your entire paycheck on it. My great grandfather lived to be 101 years old and never once set foot in a health club. He never bought a single protein bar or meal replacement shake either. His health plan wasn't really a plan at all, just a common sense approach to life that served him well for a century. Like him you can live by these five frugal exercise ideas to help you save and keep fit.
Five Frugal Exercise Ideas To Help You Save And Keep Fit
Tip One – Go for a walk or run. The best gym in the world is located right outside your window. It costs nothing to use and has endless equipment options, none of which ever have a line. Going for a long walk each day is a great way to get some exercise in for you and your family. If you have little ones push them in the stroller or pull them in the wagon, which gives you a little extra exercise too. Pack some water and take a long walk that really counts. If it is cold outside walk laps at the mall or any other indoor facility. Once you have the walk down start running, there is no better or cheaper exercise then running. All you need is a pair of tennis shoes and you can improve your overall fitness in a few short months.
Tip Two – Explore the great outdoors. I bet that there is a website or a book that you can find in the library that will tell you all about local trails and day hikes for you and your family. Strap on a backpack and start exploring. You will get a great full body work out as you change elevation and trek for miles and get to experience the beauty of nature. Eventually you will be able to go on full day hikes or even overnight backpacking trips. A lot of trails or set up for strollers, so you will not have to leave the little ones at home. For sure you can bring the family pup and get him in shape too.
Tip Three – Eat better. This does not mean buying items that fit in with the newest diet craze or buying expensive diet products. Eating well is about balancing your diet so that it is relatively free of processed food and sugars. Instead of buying a bag of cookies buy a bag of apples. If you really want cookies, make them yourself they will be healthier and taste better. Cut back on fat by avoiding fried foods. Get protein from beans instead of meat all the time, you'll cut  your fat intake down significantly without missing any protein.
Tip Four – Get your loved ones involved. Whether it is your spouse, your children, or your best friend staying fit is easier if you work with a team. Set goals together both for weight, endurance, and savings. See who can come up wither the best ideas or who can save the most money and get in the best shape the quickest. Almost everyone will tell you that the best way to get fit is to put a little competition into it. Even if you just get a group together to play basketball a few times a week, the extra exercise will quickly show in how you look and feel.
Tip Five – Buy previously owned equipment. If you absolutely must have a piece of exercise a equipment like a treadmill or weights to get work out with at home do not ever buy it new. You can easily find used exercise stuff for sale on websites or in the newspaper. Most of the time these items will be in almost new condition for a fraction of the price of buying new stuff. The same is true for exercise DVD's. Do not buy them new, instead borrow them from the library or friends to make sure you like them and will actually use them before you purchase one.
It is entirely possible to follow these five frugal exercise ideas to help you save and keep fit. Do not let the number of dollars in your bank account dictate your health. It is easy to find low cost ways to eat well and stay healthy if you just take the time to do it. Remember that a hundred years ago no one went to the spinning classes or had their meals delivered in neat little 300 calorie packages. They just stayed active and ate foods that made sense. Those same simple steps that kept them fit can keep you healthy too. Figure out what you need to do to be happy and healthy at the same time. If you are able to find things that you like to do you will be much more likely to continue doing them and more likely to stay healthy over the years. Live the new mantra healthy body, healthy mind, and healthy bank account.
This article was written by personal finance writer Timothy Ng from Sydney, Australia. He is genuinely passionate about helping people compare credit cards and helping them through researching to find the best low interest credit cards.