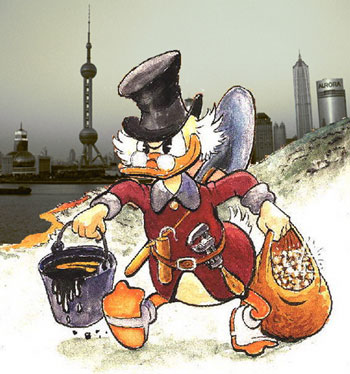 For millions of people every day, bait is sent through the mail.  By bait, I mean credit card offers and businesses like CitiFinancial trying to loan you money.  While borrowing money is a fact of life, the type of borrowing you do can lead to a bad credit rating.  Here are some simple guidelines as to what types of credit are good and ones to avoid: 
Good Credit 
A good credit rating comes from creditors analyzing the type of debt you have.  Common types include fixed, like school loans and mortgages, and revolving, whose star is a credit card.  A good credit rating gives you more buying power; however, the number is not the only factor that is examined when you are trying to borrow.  You may have a high credit score, say above 750, but your score may be based on a small amount of credit.  It is easy for college students to begin with a high credit score because they do not have big ticket items on their credit report.  For someone with a long credit history, it is possible to maintain your good credit score once you are offered credit.  I'll get into this more when I talk about when to borrow. 
Bad Credit 
Unfortunately, more people today are plagued with a bad credit rating.  And at times, it is not your fault.  For example, with the economy not doing so well lenders have started ending a relationship.  After I paid a credit card off, I received a letter in the mail stating that the company was choosing to close my account.  While it is not going to kill my credit score, creditors do not like to see numerous closed accounts.  Bad credit ratings can also be cumbersome to consumers who choose to buy a lot in a short amount of time.  Let's say you just graduated from college and have landed a nice job but need to relocate.  Your college car isn't going to make it, you are choosing to buy a home instead of renting and you need to furnish your home.  In a short amount of time, you are going to need to make some large purchases.  You see an advertisement for "6 months same as cash," or "no interest for the first year" and are pulled in to using credit to make those purchases.  There is nothing wrong with taking advantage of those programs.  I'll explain why in the when to borrow section.  However, making those types of purchases quickly may affect your credit score.  While it seems you are being punished for having a job and choosing to borrow, it will pay off as you establish your consumer history. 
When to Borrow 
There is one question you should always ask when you are thinking about borrowing: "Can I afford this?"  When deciding to buy don't look at the price per month, look at the total cost of it.  It seems more feasible to see $279 a month instead of $17,000.  Another trap retailers don't share is a price on a window (for a car perhaps) is for someone who has a good credit score.  You may end up paying a lot more than $17,000 for the car that was only $279 a month. 
Another way to determine if you are ready to borrow is to figure out if you can pay the balance off after you have borrowed.  Credit cards make money if you don't pay the balance off.  Make sure you can pay the money back each month, and on time to ensure your credit score stays strong and your interest rate is never a factor.
 To conclude, don't borrow what you can't afford.  It is amazing to hear teenagers say, I'm going to move out because rent is only $150 a month and I make that in a week at my after school job.  Young people forget that with rent comes utilities, maintenance and furnishings, not to mention the extra things you need to keep your apartment nice.  So, borrow when you know you can meet the terms and always pay it back, in full.