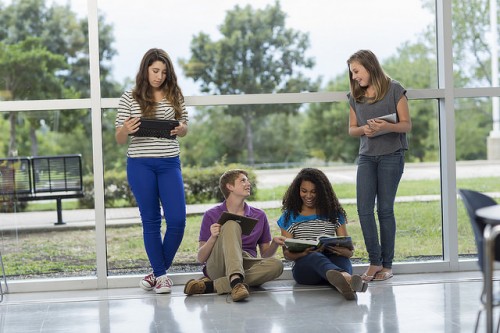 The standard assumption is that students will automatically leave college massively in debt. But this needn't be the case. Wouldn't it be better to embark on your career and adult life without needing to repay large loans? There are so much better things to spend your money on.
One excellent way of actually leaving university with cash in the bank is to work while you study – in the evenings, at weekends and in vacations. Not only will this provide you with an income, it's an excellent way of gaining experience to add to your C.V.
Think of an area that interests you – one where you feel you have some skills and aptitude. The next step is to embark on further training that will enhance your employment prospects in that field. Consider taking aTAFE course online that could lead to recognized professional qualifications, which could increase your earning potential.
Areas of work that you might want to consider are:
Accounting
An accountancy or bookkeeping qualification will stand you in good stead for almost any future career. Companies always appreciate people who can demonstrate their financial acumen and know the bottom line in terms of profit and sales. It will also come in very handy if you are thinking of starting your own business.
Building Work
Receiving training in some of the varied skills in demand in the construction industry or home renovations field can be a very financially rewarding decision. No one wants to employ a plaster or tiler that can't demonstrate that they know what he or she is doing. Offering a qualification is likely to win you more work.
Childcare
Working with children is a flexible, potentially rewarding thing to consider, especially if you think you might want to eventually pursue a career as a teacher or in the childcare sector. It's very important to seek the right qualifications as, naturally, there are many safety and security issues involved in this area.
Fitness training
If you've always been interested in some kind of sport, this is a great field to explore. Gyms are often seeking freelance trainers. There might also be opportunities to work at children's summer camps and resorts abroad.
Information and Technology
This ever-evolving field is an excellent one for tech-savvy people as many contractors are employed on a freelance basis. The more skills you can offer, the more in demand you are likely to be.
Photography
Getting some photography lessons and tips will help you in so many ways. Not only will you be able to set up as a freelancer, offering portraits and covering events like conferences and parties, but you will also be able to advertise this skill to future employers. Every company now has a website that needs decent, high quality photos and will appreciate members of staff who are able to supply them. It will also help you setup your own web page, if you are planning to start your business.
Travel and Hospitality
Although it's fine, of course, to work in a restaurant or bar, it's unlikely to be very lucrative (unless you get very good tips!). If you enjoy interacting with people and sorting out problems, why not think about getting a qualification that will enable you to work for a company that plans luxury holiday schedules for up-market clients. Or perhaps you'd like to get involved in events management, which is a booming market?
Writing
Taking a writing course is always useful. Not only will it help you with your university coursework and job applications but it could also provide you with a steady income. Writers are in demand for all kinds of freelance work including writing online blog entries and copy for brochures and press releases.
These are just a few of the many, many fields that might offer you to opportunity to make money as you study, ensuring that you leave university with cash rather than debts in the bank.