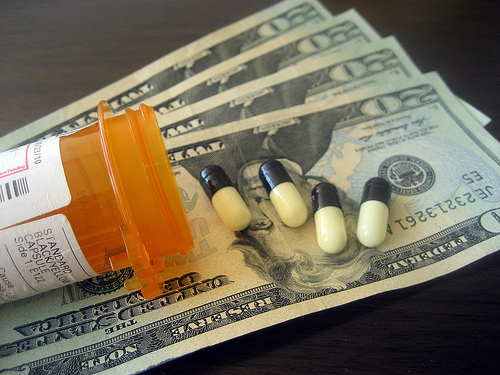 Many retirees are on a fixed income. If you're retired, or are about to retire, one of the things that might be weighing heavily on your mind is prescription medication. Here's how to save on medicines and also your medical care.
Get a Supplemental Plan
A supplemental Medicare plan helps you plan for out-of-pocket health expenses, making healthcare costs more predictable in retirement.
This is a fee-for-service supplemental insurance plan. It's sometimes referred to as Medigap. The coverage can help pay for any co-payments for insurance, deductibles, and coinsurance amounts.
Medicare can sometimes come with very high deductibles and co-pays. For example, a policy under Medicare Part A covers hospital service. But the deductible is over $1,200 for each benefit period (2014).
With Medicare Part B, physician and outpatient care services, most people pay a premium of about $100 a month and a deductible of $147 a year. But, they must also pay 20 percent coinsurance.
This means that if a person uses these medical services, they pay up to $147 per year in deductibles, plus 20 percent of the bill the doctor charges. So, for every $1,000 billed, the patient would be liable for $200.
In order to get a Medigap policy, you must already have Medicare Part A and B, and you must pay a monthly premium for the coverage. The amount will vary based on the insurer, and the plan where you live.
Medigap also only covers one person, so if you want coverage for you and your spouse, it's two premiums, two deductibles, and the coinsurance for two separate policies.
Finally, while Medigap does help reduce costs, it doesn't eliminate them. Policies won't cover vision or dental care, eyeglasses, hearing aids, or long-term care expenses. Medigap also won't cover prescription drugs if it was sold to you after 2006.
Enroll In Medicare Part D
Getting prescription drugs is a normal part of many seniors' lives. Unfortunately, there's a hole in the coverage provided by Medicare.
This is where Medicare Part D comes in. Part D plans charge a monthly fee in addition to a monthly premium, and this varies by plan. Deductibles also vary.
Most Part D plans also have a coverage gap, known as the "donut hole." This hole is essentially a limit on the amount of prescription drugs which are covered under the insurance plan. Beyond that, you need to look for savings elsewhere. You can pick up a prescription discount plan, which is a popular option. If that seems like something you'd be interested in, you can see more at RxOutreach.com.
Other people who don't like that option shop generics, or they go without medication or pay the difference out of pocket. Unfortunately, the options are limited.
Shop Around
Shopping around almost always pays. When it comes to prescriptions, you should switch from brand names to generics. These work just as well and can save you a lot of money. Ask your doctor about generic versions of any drugs you're on, if you're not already using the generic version. Generics are just like the brand name version, and they contain the same active ingredient. The difference is that you're not paying for the name.
Plan Early For End-Of-Life Care
This is something that most people don't like discussing, but medical expenses during the last years of life will likely be much more than they were early on. Average out of pocket expenses, in the five years prior to a person's death, average $38,000 a year, according to research from Mount Sinai School of Medicine.
One of the best things you can do is to plan early.
A living will should take care of most of the important things in life. It's a legal document that gives a set of written instructions that spell out actions to take if you're not able to make decisions due to an illness or if you become incapacitated.
Another thing to consider is long-term care insurance. This type of insurance pays for the cost of long-term care, whether it's skilled care (a nursing home) or in-home care.
There's also a tax benefit for long-term care insurance as premiums are considered a medical expense according to the IRS.
If you don't like the idea of buying a dedicated policy, some life insurance options allow you to accelerate a portion of the insurance death benefit to pay for long-term care expenses. These policies are typically permanent life insurance policies, like whole life or universal life insurance.
It's typical for whole life policies to accelerate up to 25 percent of the death benefit for long-term care while universal life may accelerate more, up to 50 percent or more of the death benefit.
Steve Saville has been in healthcare for many years and enjoys sharing his thoughts online. His articles predominantly appear on health and wellness sites.