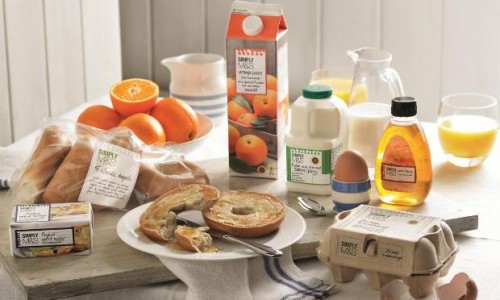 When your budget is stretched, creating healthy meals for your family can seem like an impossible task. Fortunately, there are some tips you can use to keep your grocery bills under control. Use these bill-busting tips to find healthy foods for your family.
Cook From Scratch
Convenience food might seem cheap, but cooking your own meals from scratch leads to lower prices per portion. Meals you make yourself from healthy ingredients can also leave you feeling satisfied for longer, reducing the amount you spend on snacks. If you don't know how to cook, look up some simple recipes online. The U.S. Department of Health provides 100 easy recipes based on healthy eating guidelines to help you get started.
Buy in Bulk
Large sacks of rice and big bags of pasta are often less expensive per pound than the same foods in smaller packets. Buying non-perishable food in bulk can save you money in the long run, although it does involve spending money upfront. It's also a good idea to look out for special offers and discounts on products that you can store at home. For example, you can buy meat when it's offered at a special low price and freeze it to provide a base for healthy family meals over the next few weeks.
Use Coupons
Coupons can help you save a lot of money on your grocery bills. Look out for coupons online for healthy foods that you wouldn't normally be able to afford. The Hampton Creek Facebook page provides coupons that you can use online or in store to save money on a wide range of foods and condiments.
Embrace Leftovers
When you throw leftover food in the trash, you are literally throwing away money! Pack up leftovers for lunches or include them as part of the next day's dinner. Sauteeing leftover vegetables, meat and potatoes with an onion and some garlic is a great way to create a tasty dish out of food that would otherwise go to waste. Remember to store your leftovers in the refrigerator to reduce the growth of potentially harmful bacteria. Use leftovers as soon as possible, as cooked food often doesn't last as long as raw ingredients.
Bring a Brown Bag Lunch
Buying a single meal out of the home can put a significant dent in your weekly food budget. Pack healthy sandwiches on whole grain bread for every member of the family to take to work or school. Provide apples, bananas and other inexpensive pieces of fruit as snacks. You can even chop up vegetables like carrots and sweet peppers as tasty treats to nibble on during a long day in the office.
Grow Your Own
Fresh herbs can make an inexpensive meal taste as good as fancy restaurant food, but they're too costly for many families. Growing your own herbs is an affordable option when compared to buying little packets of chopped herbs at the grocery store. Everyone can create their own herb garden, even people who live in tiny apartments. All you need is a sunny windowsill, balcony or patio where you can place a few pots. If you're new to gardening, start by learning how to grow basil or mint, two herbs that grow quickly and tolerate a wide range of conditions. Once you've developed your green fingers, you can branch out to vegetables that grow well in pots, such as tomatoes and chilies.
Stick to Simple Foods and Adapt to the Seasons
When many people imagine healthy foods, they think of kale, quinoa and fresh berries. However, there are many healthy foods that are much cheaper than these trendy ingredients. Beans are packed with protein and minerals and can cost only pennies per pound when you buy them in bulk. Buying vegetables that are in season can also help keep your costs low. For example, fall is a great time to shop for pumpkin, while spring is the best time to search for good deals on asparagus. Fresh berries can be very expensive during winter, but you can buy them frozen instead — or even stock up your own freezer during summer. Pay attention to how produce prices fluctuate during the year and adjust your menus accordingly to save money.
Summary: A Little Can Go a Long Way
By buying foods that are in season, buying in bulk and looking out for special discounts and coupons, you can fill your refrigerator, freezer and store cupboard with tasty and healthy ingredients. Add some basic cooking skills and a few home-grown herbs to create delicious meals that support your health.
Chloe Steel is a modern mom that juggles career, kids and lifestyle. Cooking is one of her passions and she enjoys making time for it every day. She also enjoys sharing her lifestyle tips online through blogging.