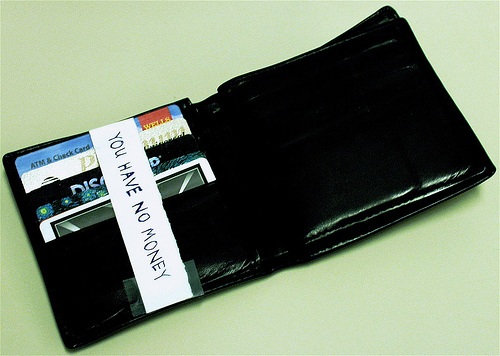 Source: Flickr
This is a guest post from Mr Credit Card of www.askmrcreditcard.com. Mr Credit Card is going to talk about how he uses credit cards to help in his budgeting efforts, in addition to being a convenience tool. If you are looking for a credit card, please check out his best credit cards list section
Firstly, I would like to thank budget pulse for allowing me the opportunity to guest post here. Today, I am going to talk about how to I use credit cards as a part of my budgeting tool. But first, here is a background. I charge everything to my credit card. There is a reason for that. I pay my bills in full every month (which everyone should) and I use it to earn rewards (which I'll explain in more detail later). So how does my credit card help in my budgeting. Here is how I use it.
Expenditure Breakdown via Statement Summary – I get statement summaries from my credit card issuer once a year. It breaks down my expenditure into various categories. Because I charge everything to my card (except my mortgage), I have an accurate breakdown of my expenses and I use that as a basis for budgeting and adjusting our expenses.
Pay on time via autopay – I am extremely bad at paying my bills. I simply hate going through all the bills and writing my checks every month. So what I do is to use automatic payment with the credit cards I have. Every month at a set date, money is taken out of my bank account. I have never had any issue with this arrangement. There are tons of advantages of doing things this way. Firstly, you'll always pay your bills on time. That is so important improving your credit score. Secondly, your credit card issuers can never accuse of being late if there was a mess up from their end.
Budgeting for my vacation – Believe it or not, but I've taken more vacations than not if not for my credit cards. For about the first ten years of my working life, I traveled quite a lot on my job. Because I was given a business credit card from my company, I managed to rack up lots of points (btw – I was given the Amex corporate charge card). These points were invaluable to me because they did not expire and I was able to get many free airline tickets simply because I was using my company's credit card. It was not even my expenses. But what I did was that I also got the same card for my personal use and earned even more points. After a couple of years, I was able to figure out roughly how much I spent on my company's business credit card and my personal credit card. With that data, I was able to plan and budget for my annual vacation. Very often, the cost is much lower because of those reward points I have earned.
Most credit cards also provide car rental collision insurance if you charge your card for the rental. This has also saved me a few hundred dollars every year on my vacation where I had to rent a car.
Saving Money – After I stopped traveling for work and switched companies, I realize that I would be better off earning cash rebates rather than reward points (since I would not be earning as much points). Hence, I got myself a credit card with cash back rewards. On average, I have been earning about 2.3% in cash rebates every year. This works out to be about $1000 every year. Once I got through the first year using the card I had and getting a feel for the rebates I earned, I could once again factor in the savings that I would get.
For folks who have debt, doing a credit card balance transfer will help in your budgeting as well when it comes to interest expense.
Ending Thoughts – Some folks got into massive credit card debt and hate to use them. For me, they have been an invaluable tool for budgeting for my vacation and actually saving money with them. All this only happens when you pay off your bills in full every month. I hope these little tips were helpful to you.