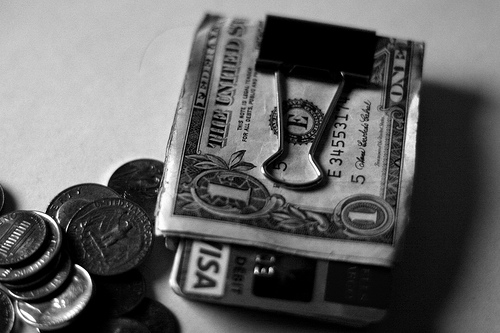 A few weeks ago my wallet of 10 years was stolen.  I remember the day I bought it with my mom at Marshall's it was my first grown up wallet and it had a lot of sentimental value to me.
Here are steps you should take right away when your wallet is stolen/lost.
Cancel all cards
Get replacement cards
Get a new ID
Get a new Wallet
Immediately I canceled all my credit cards and debit cards, and contacted the necessary people to get replacements.  After the initial shock of having my wallet stolen and fear that someone has my id, bank information, and cards, I made sure I took these steps to make sure no identity theft or money would be stolen.  It can be such a hassle but if you step back for a few seconds, you will realize that it's not the end of the world, and getting things in order can be done fast.  In fact, it helped me save money.
How?  Even though I had $20 and cards stolen, it took a few days for the new cards to come in the mail.  In that time period I did not purchase anything, basically because I had no means.  Not having any cards prevented me from any quick impulse buys that may have happened on small items that could add up over the course of a week.
The place I really saved money was with a lack of an id.  Not having my id restricted the activities I could do.  I didn't feel comfortable driving without an id, so I saved some money on gas.
I also could not go out to any bars with friends so I instead had more low key movie nights instead of going out in DC.  I was able to save a lot of money on night activities from not having to pay for taxis, covers, drinks, and good.  The more low key movie option may not have been exactly what I wanted to do, but for the short term until I had my id back, it was fine.
With all those activities gone, I was able to save at least $100 in a one week period.  Don't get me wrong I would rather have not had my wallet stolen, but I managed to put a positive twist on it and in the end actually had more money to put in my now new wallet.
Have you ever had a wallet lost or stolen?