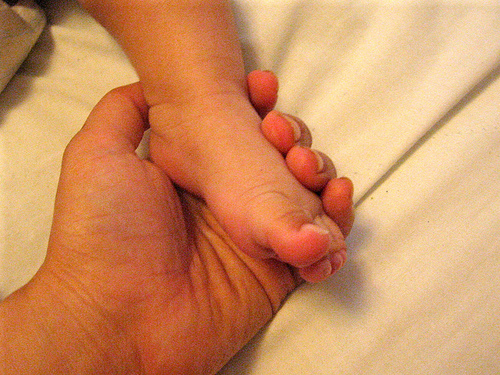 Source: Flickr
This is a guest post by Aaron Pinkston who created Clarifinancial (www.clarifinancial.com) to make buying life insurance easier and better. It is the only way to get custom life quotes from multiple agents without any hassle. Seriously. Check it out now to see how easy choosing can be when choices are clear.
How to Budget for Life Insurance
If you are like many young couples or new parents, you may be wondering how to fit life insurance in your budget. And how much should you set aside and plan for to make sure you can meet those premium payments?
Well, don't worry. The answer is that insuring your life could be easier to budget for than you imagine. Protecting your family is easy to do.
How much life insurance will you need?
If you are already in a budgeting mindset, it will probably be easier to figure out how much life insurance you need than your peers. You already know how much of you income you need to replace if you can no longer be there for your family. Just figure out how long that need will last.
If you need your life insurance to cover expenses for less than 8 years, skip ahead. If you need 8 years or more of your income, try a simple calculation to figure a lump sum differently. Take the amount of your budget you need to replace and divide it by your spouse's expected investment return; then subtract any investable assets you have.
Here's an example: You need to replace $3,000 a month of your budget. Your net worth consists of $50,000 of investments and $40,000 of equity in your house. Your spouse or childrens guardian feels comfortable managing money at a 6% (0.06) return.
(($3,000 * 12) / 0.06) – $50,000 = $550,000
Notice I didn't include the equity in your house because you can't feed your family with home equity. (Or at least it's not a financially secure thing to do.)
Neither of these methods will give you the exact amount of life insurance to budget for. Going through your financial plan is about personal choices too. Once you have an amount (or two) of insurance from these methods, talk to your loved ones about how your family will continue financially in your absence.
Go shopping
Now that you know how much life insurance you need and how long that need might last, go shopping. Don't delay. Do it now.
The sooner you can get accurate life insurance quotes customized to your needs, the better. That means you can finally incorporate your life insurance payments into your budget.
There are a few ways to do this:
Call different agents to get quotes over the phone. If they are anywhere close to you, they will probably want to schedule meetings with you in person too. Expect at least 20 minutes per phone call. 1-2 hours for meetings in person. You should call more than just one agent (I recommend at least 3) to make sure your quotes are competitive and benefit you more than the agent.
Get instant quotes online from any number of companies. But instant quotes can only be so accurate, leaving a lot of uncertainty. Most online companies either sell insurance like a regular agent with a website, or they sell your contact information to agents who contact you for the aforementioned phone call. This doesn't quite do it for me.
Get customized quotes from different agents anonymously. Another online solution unlike other methods is Clarifinancial. You benefit from agents competing for you without the hassle of unwanted contact. When you find a quote you like, only that one can contact you. Sounds pretty awesome, I know.