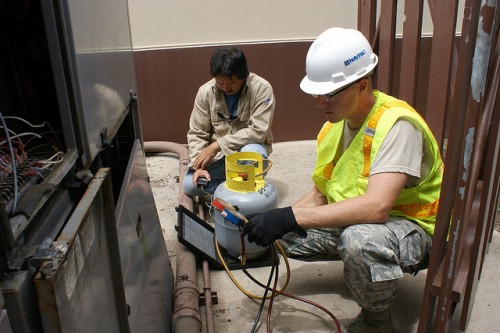 Upgrading your HVAC? Want to save money but also be comfortable with your new system? Who doesn't? Here's how to get it done.
Upgrade The Whole System
When you buy a new system, upgrade everything. The problem with getting one component replaced and leaving the rest as is because it's still working is that mismatched systems often don't play well together. An older furnace may not be designed to run alongside a new AC unit.
So, either hire competent and trustworthy AC repair technicians to fix your old A/C, or get an entirely new HVAC system. With some things, you can replace only what's broken and be fine. But, with an HVAC system, the components all share the same air handler or blower. Mismatching the system (having an inefficient handler which accommodates an older heating system, but a newer A/C system, for example) only decreases the efficiency of the newer system.
And, unfortunately, the blower on older systems is incompatible with newer components like individual heating and cooling systems, so, you either replace everything or get stuck with a system that's inefficient, despite having some new components.
Another benefit of going with matched systems is that, when repairs or maintenance needs to be done, the warranty will cover the entire unit, not just one part of it. Sometimes, a manufacture's warranty will be voided if it's installed on an older system too, so keep that in mind.
Finally, the installation process will be less complicated for the contractor if you just buy an all new system, and that means lower installation costs for you.
Rely On Cost Savings Over Time
You must rely on cost savings over time with HVAC systems because the new system is going to cost a lot up-front. It's no unusual for a system to cost between $5,000 and $7,000. But, they can definitely cost more – a lot more.
Over time, the energy savings should give you a payback, however. This is something you must calculate in advance and then monitor over time. Let's say you buy a new system and you calculate your energy savings at 20 percent over the next 5 years.
But, this assumes that you keep the thermostat at a specific level at least 80 percent of the time. You will need to either:
Closely monitor the thermostat or;
Get a programmable thermostat.
Get a Good Contractor
The contractor can make all the difference. In fact, the weak link in even a good HVAC system is the skill of the contractor. If you're trying to save money, and cheap out on the company installing it, you may never see the advertised efficiency of the unit you just bought.
Get Regular Maintenance
Finally, get regular maintenance on your new system. This will not only keep future repair costs down, it improves the efficiency of your system, keeping energy costs down.
It also decreases the risk of premature wear and tear on the entire system, extending the life of your HVAC system.
Amanda S. Evans is an HVAC parts and systems supplier. She enjoys sharing her industry insights on the internet. Her articles appear mainly on homeowner and DIY websites.