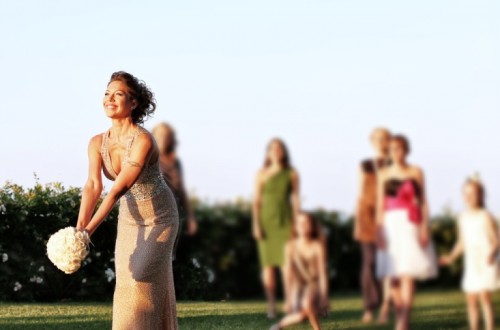 You and your fiancée don't have to bankrupt yourselves to have the perfect wedding. Obviously it is an extremely important day and one you have probably dreamt of since you were a little girl, but it can still be the best day of your life on a shoestring budget.
The average wedding costs £20,000 (not including the honeymoon or rings) – a whole year's wage for some, spent on one single day. Saving cash on the day doesn't mean your wedding will look cheap; in fact it is likely to result in more personal touches.
So, how do I plan the wedding of my dreams on a shoestring, you ask? Here are just a few ways you can start to slash costs:
Invitations: A handmade invitation won't only save you a considerable amount of money. You can also make them to your specifications, which will be far more personal.
The Guest List: Don't get carried away with your invitations – each guest will increase the overall price of your day – so think carefully before you invite your mum's colleague's brother. It is an intimate day, so keep it that way, with immediate family and the closest of friends.
Photography: The photographer can be one of the priciest aspects of the day! Is this really necessary when you (and your guests) can take photos that will allow you to remember the day equally as well as those taken by a professional?
If you have a friend who is into photography (and perhaps has a top quality camera) call in a favour and ask them to take the more 'posed' photos. But, for a few action shots why not place disposable cameras on the guests' tables and ask them to snap away? These will be great fun to look through when they are developed and with so many to choose from, you can add a selection of the best to your wedding album – plus it will save you thousands!
Bridesmaids Dresses: Traditional bridesmaid dresses can be expensive – why pay so much when you can get an equally pretty dress on the high street for less than half the price? You could also give the bridesmaids a colour scheme and a budget and allow them to pick their own dress. They will feel comfortable and unique whilst still being coordinated.
Special Offers and Negotiation: Costs are often increased for anything related to weddings. The likes of florists and photographers are aware brides want their 'perfect day' and therefore feel more work will be involved. Therefore look out for wedding special offers and don't be afraid to negotiate with suppliers.
The Date: The day and season of your wedding will dramatically alter the price. The best time is a weekday during the winter – a wedding on a Tuesday in November could be up to 50% cheaper than a Saturday in June.    
Ask Family and Friends: Don't feel like you can't ask your family and friends for help. They will be pleased you asked, and happy that they can help make your day special. Perhaps ask someone to assist you with homemade decorations – you could make a night of it – get the girls round, have a few glasses of wine!
Does anyone have a particular strength – perhaps you have a relative who could make the wedding cake or a friend who could do your make-up on the day? Having friends and family involved with make it all more personal and ensure the day is perfect.
As much as you want your wedding day to be special, ultimately it is about marrying the person you love, not breaking the bank. Plus, the more money you save on the big day the more you have to spend on the honeymoon (and the rest of your married life, of course!)