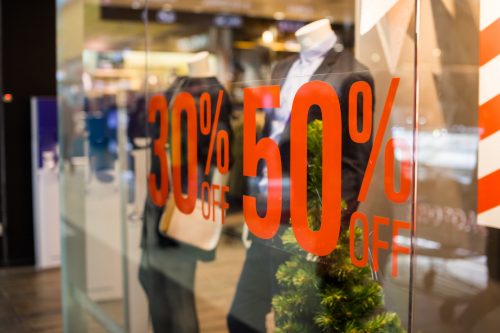 According to one study, the average person spends about $161 per month on clothing. Women tend to spend more on clothing than men—about 76% more per year. One family of four averages about $1,800 per year on clothes, with about $388 going towards shoes.
Of course, for some people, those numbers are even higher.
So, when you realize you spend almost $2,000 a year on clothing, you're probably left with a concern: how to save money on clothes. How can you still treat yourself every once in a while without breaking the bank? How can you have an excellent wardrobe and some cash in your pocket?
Keep reading for some money-saving tips from the experts.
Use Your Coupons
Coupons are one of the best ways to save money on clothing.
Check online to see if your favorite store is doing some type of deal. Often, you'll notice '60% off entire shop,' or '10% off one full-priced item,' among many others. Learn how to coupon at Target, Macy's, Express—you name it—by looking up coupon websites online, too.
Getting deals always feels great. The next time someone compliments you on your activewear or new dress, you can say: "Thanks! I got this for 50% off!" Prepare for ensuing jealousy!
Shop During Tax-Free Week
This year, at least sixteen states are participating in a tax-free week. Is your state (or the one twenty minutes away) one of them?
This tax holiday means that during set days, tax is lowered or even non-existent. It's the perfect time to buy certain items, like your go-to t-shirts, in bulk, as you won't be punished with that pesky state tax. If you've always wanted something a little on the pricier side, like a fancy leather jacket, now might be the time!
Although, keep in mind that there are some limitations in certain states, so familiarize yourself with your state's rules before heading out.
Buy Used
You can get some great outfits in your wardrobe by buying them at a highly-discounted price by shopping used.
Consider hitting up your local thrift store.
It's not rare to find a ton of name-brand clothing items for an insane steal. Some thrift shops even have additional discounts throughout the store, such as 50% off everything with a yellow tag, for example. Ask your local thrift store if they have these discount days, and load up your arm with hangers!
You can also buy used clothing through platforms such as Poshmark. This site allows you to search for something specific—by brand name, size, or style—and you're connecting with a personal seller. Before you buy yourself a brand-new pair of shoes, see if there's a never-been-worn pair for sale (at a discount) on one of these merchant sites.
Shop Sustainably
It may sound counterintuitive, but consider buying higher-priced, higher-quality items that are guaranteed to have a longer life.
Do you ever get a steal on something, only for the buttons to pop off or the hem to snag? Then, you're stuck with four choices: fix the item, return it, toss it, or buy a new version of it. This cycle is one that can be avoided by spending your money wisely on clothing that's built to last.
Fast fashion is just that: fast. If you buy artisan-made items, sure—they're more expensive upfront—but over the long run, you'll save money and have an incredibly enviable closet.
Take Care of What You Do Have
This point kind of goes in line with the point above. If you do have an item that you adore, why would a simple tear or stain cause you to throw it away?
We may have a common problem with thinking everything needs to remain perfect to be on our bodies. Sure, we don't want to wear something that's going to be embarrassing, but we also don't need to throw money into the trashcan and more money back into the clothing industry.
Instead, find ways of protecting your items.
Perhaps that's taking it to a tailer, the dry cleaners, or learning how to sew. It can include looking up innovative ways of getting rid of stains. Whatever it takes to give your clothing a longer life, try to do so.
Buy During the Off-Season
This point is especially great for those who live in dry summers or frigid winters.
Rather than buying your down jacket during the coldest months of the year, when it's sure to be full-priced, why not think ahead and buy a coat during the summer? At this point, manufacturers will want to get rid of their stock, and you're likely to find a great deal.
The same thing goes for shorts, tank tops, and bathing suits—all your summer gear. Buy it during the wintertime!
Buying during the off-season, or near the end of the season, is a surefire way to find great sales.
Browse the Clearance Section
When you walk into the store, you're pulled to the 'this-just-in' section of the store. The hot new items donning mannequins. It's built to deter you!
Instead, walk right past the shiny new things and check out the clearance section. Something you were eyeing the week before might now be on sale for 40% off. You never know what great things you can find on clearance, allowing you to resist the expensive impulse buys and avoid the subsequent buyer's remorse.
Now You Know How to Save Money on Clothes!
With these tips in mind the next time you go shopping, you're likely to save some money.
Shop smarter by looking for sustainable, longer-lasting brands. Remember that coupons and clearance sales are your friends, as well as buying staple pieces during the off-season. Once you do have something new hanging in your closet, take care of it—for example, sewing that hole in the underarm rather than tossing the whole shirt away.
These guidelines have taught you how to save money on clothes. What else could you learn?
Keep scrolling our blog for more insight into a wide range of topics like this!