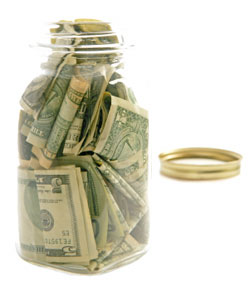 Start small even if it is only a dollar. Remember that no amount is too small. Keep a change jar handy. Save all of your change. It adds up very quickly. Take all the change out of your purse and stick it into a container. Once every six months, make a deposit into your savings. It is a small way to start. You can do the same thing if using your debit card. After a while, start putting away two dollars and keep bumping it up, as you feel comfortable. Always pay yourself first, even if it is only ten dollars a paycheck. Slowly build up your savings. The idea is to make it a habit. Always put something aside.
Make sure to have savings. When anything goes wrong, there is nowhere to go for funds. Create an emergency fund. Try to have at least twelve months of regular monthly expenses saved. Put the rest of the money saved in a high interest savings account and do not touch it unless it is absolutely necessary. A lot of experts suggest an emergency fund holding 3-6 month salary.  During the times now, many even consider increasing that number to 6-9 months.  Also make sure to save for your retirement.
Step By Step:
Pay off credit cards before saving for an emergency fund.

Look at all of your income vs. your monthly expenses.

From your expenses, determine what a want is and what a need is.

Spend less on the wants and put the money into savings instead.

After doing that, you will come up with a figure of what you can save per week or per month.

Add 20% to the figure and try to save the much.

Find the highest interest savings account you can and put your money there. Make sure it is an FDIC insured account.
What are some of your tips to starting an emergency fund?