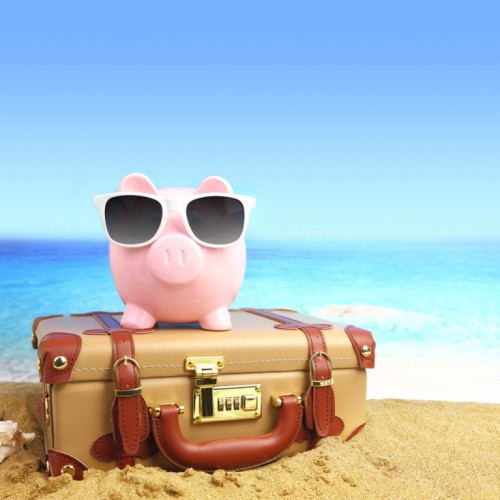 More than half of employed Americans fail to use any of their allotted vacation time, which most health care professionals assert is a dangerous game. Refusing to give the body time to rest and relax allows stress to build up, causing untold damage to vital organs, like the brain and heart.
Yet, vacations can cause stress too ― especially if you don't quite have the money for the trip of your dreams. Fortunately, it doesn't quite take a trust fund to travel, and if you start saving now, you should be able to afford an amazing vacation by summertime. This year, you should resolve to prioritize travel savings and follow these five steps to success:
Step 1: Research and Report
Before you can start saving adequately, you have to know how much you are trying to save. Thus, you should start planning your summer vacation right now. Think of the places you want to visit, and begin researching them online. You should investigate prices of flights, lodgings, activities, food, and any other travel necessities that are appropriate.
You must delve deep to ascertain just how much your summer trip is going to cost. Some destinations may seem cheap, but unexpected expenses might drive up their costs. For example, many guidebooks claim that you can experience Southeast Asia on less than $30 per day, but considering added costs of immunizations (the tropical climate carries many diseases), travel insurance (a necessity whenever you leave the country), and pre-travel necessities (including flights to and from your destination), that number isn't quite feasible. However, once you have a full report of your travel expenditures, you can begin the real work.
Step 2: Separate and Save
If you keep your travel savings in your checking account, you will never be able to afford a trip anywhere. You must create a separate savings account for the money you intend to use on your vacation, and you must consider this account sacred and untouchable. Then, your savings can slowly accumulate in safety in the months leading up to summer.
Additionally, you should make monthly savings goals to help you place money into your new account. It might help to give names to the amounts of money you save. For example, in February, instead of trying to amass $250, you can motivate yourself by saying that by March, you will be able to afford the scuba lessons you always wanted. With concrete goals, you will build enthusiasm for your trip and feel encouraged to save.
Step 3: Spend Smart
Obviously, you can't stop spending entirely while you save for your vacation; there are everyday necessities, like food, rent, and gas, that require some of your income. However, by choosing to use a travel rewards credit card for these simple purchases (and pay it off appropriately every month to keep your credit healthy) you could earn rewards that will cut down on the costs of your summer trip. Plenty of rewards cards provide incentives just for signing up, like points you can use for international flights or hotel stays, so you could benefit just from applying.
Step 4: Sacrifice for Summer
During the next few months, you will have to make some tough choices: Would you rather eat out tonight or enjoy a magnificent meal on your trip? Would you rather pay for your multiple movie subscription services now or be able to afford a show or concert during your vacation? Every dollar you spend in the coming months is a dollar you won't be able to use on your summer adventure. It is a supreme sacrifice, but comfortable travel isn't cheap.
Still, you should avoid putting too much stress on yourself, as working too hard and resisting play during your normal life only leads to health problems. You can allow yourself small indulgences as long as they do not impact your savings goals.
Step 5: Rest and Relax
A vacation is less about luxury and more about relaxation. Even if you fail to meet some of your savings goals, you will probably still be able to afford a trip that can provide fun and happiness. No matter where you go this summer, you should strive to find peace and calm; then you can reap the rewards of your successful saving.