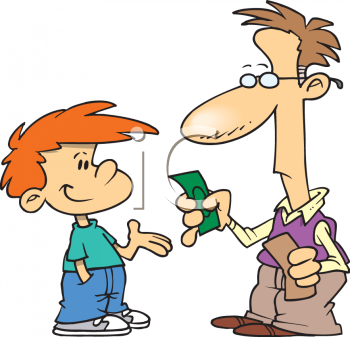 Welcome to family life. You have your spouse and at least one child. You are thinking about giving your child an allowance. Perhaps it is because you never received one, or you are taking an important step in teaching your child about money. There are various methods in determining whether or not to give an allowance, how to give kids allowance, and how to keep your kids wanting their allowance if you choose to give one. You should consider some of the following in deciding if you and your child are ready to deal with allowances.
First, can you financially support giving your child an allowance? Sometimes parents feel they need to show their kids their bank account in order for them to feel loved and appreciated. However, if you are swimming in debt, consider paying your child's allowance to your bank so that you won't feel guilty about giving your child money.
Second, does your child understand the concept of money? It seems ridiculous to begin giving an allowance to someone under the age of 5. They may or may not have fine tuned their math skills and may not understand the concept of getting money each week and choosing to do something with that money. In a book I read, the author suggested giving an allowance to children in the first grade. This way, the concept of wanting things is definitely there and they will be able to use math skills in tracking their allowance, which I'll get to later.
If you have decided to give your child an allowance, congratulations; you are helping them mold the financial decisions they will make for the rest of their lives. There are various ways to determine what kind of allowance to give. Some parents choose to give their child an allowance. When I say give, I mean they simply hand a wad of cash over to their child with no strings attached. Other parents choose to give their child an allowance when they earn it. These parents see an allowance as earnings for being a productive member of the family. One tip to consider if you are utilizing the latter method, if they don't earn it, do not feel bad not giving it. With this in mind, it is important that when deciding whether or not to give an allowance, you should consider how reliable your child is in completing your expectations.
Lastly, a tool that will keep your kids wanting their allowance every week is showing them ways to track their earnings. Here are two examples of how to track.
One is a software program that is free is kidsallowancebank.com. This allows you and your child to track money without giving any credit card information. It creates a way for your child to see how their earnings add up and to learn about banking.
Another way, using less technology, is to have your child use graphs. Let's say you give your child an allowance based on the types of chores they complete that week. You give 25 cents for making their bed all week and 50 cents for unloading the dishwasher. If your child sees that they make more money unloading the dishwasher and making their bed, they will see how doing more work earns more money. They can complete a bar graph of what they complete each week and the money they earned for it. This allows your child to be creative by choosing different colors for each chore and mapping their earnings.
Allowance can be a tricky thing among households, especially if you don't establish a clear method for giving money to your kids. But, if you are serious about teaching your child about money, allowances and tracking them are great steps.
Do you use a system of giving your kids an allowance?