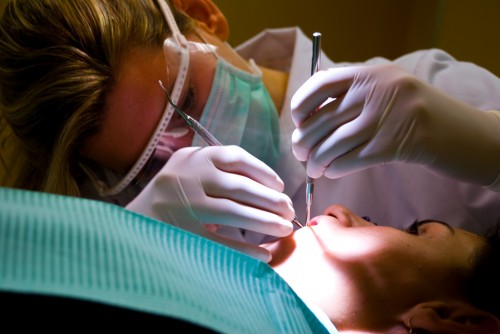 Even a routine visit to the dentist can cost more than you expected and standard procedures like cleaning and maybe some X-rays if you need them, can soon rack up the dollars.
Maintaining good oral health is clearly important and the goal is to find ways of taking a decent bite out of your dental bill, by perhaps using someone like Carefree Dental discount plans and exploring options that still give you the quality care you want for you and your family.
Consider a dental school
If you don't have a cover plan and need some treatment, one way that you could slash the cost is to offer yourself as a patient to a dental school.
Every qualified dentist has to start somewhere and although you may be slight perturbed by the prospect of the dental work being done by a student, they will be doing so under the strict supervision of an experienced and qualified instructor.
The American Dental Association (ADA) provide a list of dental schools so that you can find one nearest to you and you might also want to consider finding a dental hygienist school for cheaper routine cleaning.
Look after your teeth
It is probably worth mentioning at this point that the best way of keeping your dental bills down is to do all you can to look after your teeth, so that you don't need treatment.
Aim to brush your teeth twice a day using a toothpaste that contains fluoride, and the best times to do this would ideally be shortly after eating. Flossing at least once a day is also something that is often overlooked, but it does make a difference to the health of your teeth.
Eating plenty of fruit and vegetables will be a smart move for your diet as well as the health of your teeth and try to do what you can to avoid excessive sugar.
A good level of calcium and vitamin C in your diet will also prove beneficial and when you consider that nutrition is fundamental to maintaining healthy teeth and could also save you money, this is a no-brainer strategy.
Always ask for a discount
Most things are negotiable and if you need some work doing, there is no harm in asking your dentist for a discount.
You may find that your dental clinic will offer a discount for immediate payment or if you have a course of dental treatments to get through, it is possible that they might be prepared to negotiate on the total cost or offer you the chance to pay by instalments.
Every practice is different and some may not be prepared to offer you a discount, but if you don't ask, you don't get.
Be cautious of upselling
Your dentist should always have your best interests at heart and should only recommend dental treatments if you actually need them.
You should always find that a good and reputable dentist will not try to upsell an extra service or level of treatment that you don't really need.
A good example of this would be when you are offered the option of having a crown fitted when a regular fitting will do. A crown may be the better cosmetic option and it could be a good option if you are prepared to pay a lot more than you would for a filling, but the main point is to question whether you really need it and remember that unfortunately, there are some dentists who try to upsell patients.
Buy a dental plan
An excellent way of making regular savings on basic dental care and achieving worthwhile discounts on preventative care, is to purchase dental insurance.
Discount plans tend to work out cheaper than a regular insurance plan and you will be offered reduced rates of up to 60% on a range of procedures, so take a look at your dental plan options so that you can work out which one best meets your needs and budget.
Do check the small print and see what the coverage limits are for your dental plan.
It may be that you are allowed to have one or two basic cleans per year and pay most of the cost of more expensive procedures. The amount you pay for your dental plan should reflect the discounts and dental work that is covered, so check to see what you are signing up to.
Many of us are on a budget these days, so it makes sense to try and do what you can to keep your dental costs as low as possible.
Iris Jarrett works for a consumer public service organization and is always willing to share her insights on issues like dental health with an online audience. She is a regular contributor for a variety of different websites.