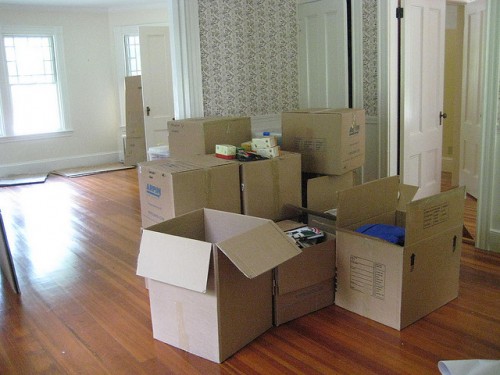 The vast majority of people hate having to move, and even more people hate the expenses associated with moving. But sometimes moving is a necessity that can't be avoided. If you're moving because you're buying a home, then money is definitely going to be tight. After appraisal fees, inspections and closing costs buyers can easily spend thousands of dollars before they even move into their new residence.
The team at Allied always provides their clients with a Personal Moving Plan that includes money-saving options like Do It Yourself Packing. In their experience, many people are caught off guard by how expensive moving can be when everything is added up.
Since you can't eliminate all of the expenses, focus should be put on finding ways to save money throughout the process and minimize the cost as much as possible. We've done some of the work for you by finding the top money-saving strategies that make the biggest difference.
Research Movers Carefully
Movers charge a fee for their services, but if you aren't careful it could end up costing you a lot more. The Federal Motor Carrier Safety Administration (FMCSA) provides a lot of useful resources for selecting a reliable, legitimate mover. They also warn consumers to be careful of mover fraud and stress the importance of using a mover that provides some sort of liability coverage in case anything is lost or broken. If you're making an interstate move the federal law actually requires professional movers to offer either released value or full value protection.
Personal recommendations are usually the most reliable resource for finding a good mover. You can also read reviews on sites like Yelp.com, check the BBB ratings and check the FMCSA database for approved movers.
Purge Your Possessions
There are two money-saving benefits that come from going through your things and getting rid of stuff you no longer use or want. First off, you'll have less to pack, which means you have to buy fewer boxes and there are less things taking up space on the moving truck. Second, it gives you a great opportunity to make extra cash to cover the moving costs.
Bucket the things that you want to sell into three categories: yard sale, eBay and Craigslist. Any high-ticket items that are uncommon or rare should go in the eBay pile. This will help you cast the widest net for finding an interested buyer that will pay top dollar. Other high priced items that are easier to sell and harder to ship, like a flat screen TV, can go in the Craigslist pile. Everything else can be sold at a garage sale.
Buy Secondhand Boxes or Score Them for Free
Packing boxes cost way more than many people realize, especially ones that are oversized, specialty boxes or wardrobe boxes. Here again Craigslist can be a valuable resource. People that recently moved will often put their gently used boxes for sale at a discounted rate.
If you're lucky you could also find no-cost boxes under the Free area of the For Sale section. But the catch is you have to be very quick. Often boxes are sat out on the curb for the first person that comes by, and usually within an hour or so all the good boxes are gone. Other places you may be able to pick up free boxes include:
–Local grocery store
–Local liquor store
–Your office
–Bookstores
–Home improvement stores
–Office supply stores
–Apartment complexes
–Restaurants
–Freecycle.com
–Local schools
–Discount stores
There are also some businesses that sell secondhand boxes. Usually, it's a side business of an existing business that receives a lot of boxed shipments. You can usually find them advertising on Craigslist.
Pack Up Boxes on Your Own
It's going to be very time consuming and if you aren't careful things could break, but packing up boxes on your own will save you a bundle. Once you've got your boxes, take the time to watch a few professional packing videos online. The key is to have the right supplies and place items strategically in each box.
The things you will need include:
–Packing tape
–Packing paper
–Marker
–Sheets
–Towels
–Clothing
The sheets, towels and clothing can be used to cushion and pad boxes that aren't fully filled. Packing paper should be used to wrap anything breakable, such as dishes or picture frames. Another trick of the trade is to always label the boxes with the room where they came from and where they are supposed to go in the new home. You'll also need to write "FRAGILE" is on any box containing breakable items.
No matter what, avoid packing more than 25 pounds worth of stuff in any given box. Anything more than that could end up compromising the box or make lifting it a safety concern.