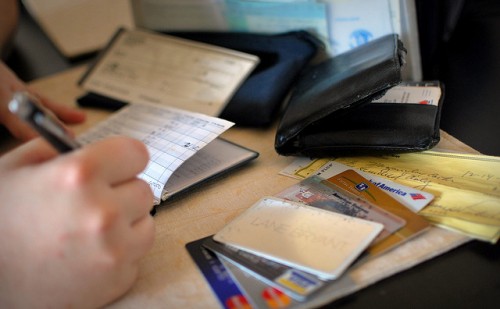 The other day, while getting my hair cut, the rhythm of "Shave and a Haircut, Two Bits" came to mind. It occurred to me to wonder how much that was. As it happens, about 25¢. Let me assure you, the shave and haircut I sat for cost me considerably more than that. But it also started me musing about the ever changing nature of currency.
Cash has given over to plastic cards with identifying numbers and a magnetic strip on the back. We have been using that system for some time, now. But if Apple, and other tech companies have their way, that system will soon be transplanted by the smartphone.
On September 9, 2014, Apple: the iPhone maker, announced iPay as their new mobile payment initiative. It bypasses the plastic altogether. By using Near Field Technology (NFC), no magnetic strip need ever be swiped. Because all of the relevant information about the card is stored in the smartphone, the card is not needed at the point of sale.
NFC transactions are not new. They have actually been used by a number of companies for quite some time. But as a follower of the tech industry might expect, Apple has put their own spin on the process, adding a layer of security that might just change the game.
Card Present Without the Card
Apple has managed to negotiate "card present" rates with the banks. That is an important distinction because those transactions are less expensive, and considered to be more secure than "card not present" transactions. This is a major victory for Apple because iPay requires no card to be present.
That said, all of the particulars regarding your card such as reward points, are kept in tact. More information about the underlying technology of mobile payment systems can be found on any number of tech sites, which must still contend with traditional card payments before this new technology gains traction. Cards are still the predominant form of payment.
No More Numbers
Are you the type of person who memorizes all of your credit and debit card numbers? Those 16 digit numbers can be a real challenge. It is really 19 digits when the three numbers on the back are included. Oh, and there is the expiration date. I guess that makes 23 numbers to keep track of.
Worse than the challenge of memorizing those numbers is keeping them safe and secure. Those numbers are trivially easy for an unscrupulous person to obtain. They are written all over your card. NFC payments systems do not fully address the problem of numbers as those numbers are stored on the device or in the cloud, or on the merchant's database.
Apple's system completely does away with the numbers. Your credit card numbers are not stored on your device, nor do they float up to any type of cloud storage. All of the relevant card information is hashed, and kept in a secure element inside the phone. There is simply no number to memorize or become compromised.
Currency Only You Can Spend
Perhaps the most secure aspect of the iPay system is that it represents a type of currency that only you can spend. Even if someone appropriates your brand new iPhone 6+, even if you just authorized a transaction, they cannot use it to make any purchases whatsoever.
That is because iPay is tied to biometric authorization. If your living finger is not present to authorize the transaction, there is no transaction, end of story. Between the secure element and TouchID, iPay is the most secure form of payment to date.
On the surface, iPay may look like a rebranded version of Google Wallet. But the details show it to ahead in a number of significant ways. That does not mean that others cannot catch up and add these features. In fact, that is exactly what must happen if this is to be a paradigm shift in currency rather than a minor benefit for only a limited number of consumers.