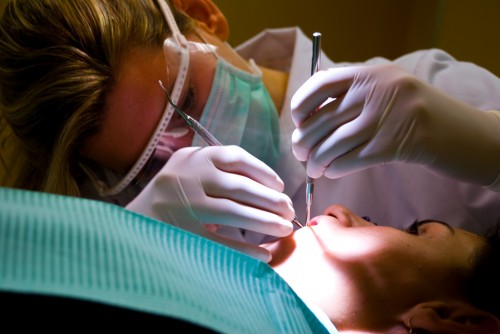 Many people need dental work, but don't go because they're afraid of the bill that comes with it. But, if you need dental work, waiting can be more costly. Here are some simple strategies that can help you get the care you need while still saving money.
Open Up A Health Savings Account
A health savings account is a special type of savings account that lets you sock away some money for healthcare-related expenses. They were created so that individuals with high-deductive health insurance could afford to pay out of pocket for medical expenses, and things like deductibles and co-pays.
In order to qualify for this type of account, however, you need to have a high-deductible plan, which the IRS defines as a plan with a deductible over $1,300 (individual) and $2,600 (family).
If you meet the guidelines, you can contribute up to $3,350 (individual) or $6,650 (family), and get this – your money grows tax-free until you need to use it. You can only use it for qualified medical or dental expenses though.
This is a great option if you know that you'll need dental services throughout the year and you know about how much you'll spend.
If you don't use the money by the end of the year, it rolls over to the next year. If you never end up using all of the money in there, you can draw on it as you would an IRA in retirement. If you draw money out of the HSA for anything other than healthcare expenses prior to age 65, however, you must pay a 20 percent penalty plus ordinary income tax on the amount.
Another related option is a flexible spending account.
Use A Flexible Spending Account
If your employer has set up a flexible spending account (FSA), use it. While not as good as a health savings account, it does help you put away money for healthcare expenses, including dental expenses. The downside is that you lose the money you put in there if you don't use it by the end of the year.
So, only put money in your FSA that you know you'll use. If your employer makes contributions to your FSA, definitely take advantage of that option, as it won't cost you anything – even if you don't use the money.
Take Care Of Your Teeth Between Cleanings
The best option, by far, is to take care of your health. Prevention means that you don't have to spend a lot of money fixing preventable problems.
To this end, you should be:
— Brushing your teeth every day, twice a day.
— Flossing twice a day.
— Avoiding sugary or acidic foods after you brush and floss.
— Adding more vitamin K2 to your diet – K2 activates a protein that is responsible for remineralizing bone. It has also been found to control bacterial that are responsible for tooth decay.
— Get more vitamin D – Vitamin D is responsible for strong bones and teeth, but you need to expose your skin to the sun to make it (or take a high-dose supplement containing the vitamin). You can obtain small amounts of vitamin D from fish.
— Get more vitamin A – Vitamin A is only found in animal fat and organ meat, specifically liver, cod liver oil, eggs, butter, and certain other dairy products. Beta-carotene, which is often mistakenly labeled vitamin A, is found in vegetables.
Go Coupon Hunting
Groupon isn't just for discounted pizza or massages. You can actually buy useful stuff on the site. Look for deals on teeth cleaning, x-rays, or other dental services. Usually, the deals only apply for first-time customers, but it gets you in the door.
Once you've exhausted that option, you can try Carefree Dental, which can save you a substantial amount of money on subsequent dental services.
Go To An Accredited Dental School
Want discounted dental services?
Visit an accredited dental school. Sure, you'll be a guinea pig for dental students but, on the upside, you will also receive discounted dental services. And, dental schools are always staffed by dentists, so the work done on your teeth will be done under the guidance of a skilled and experienced dental professional.
Pick A Doctor With A Payment Plan
Not all dentists will let you pay for care this way, but some do. And, if you need dental care, this might be your only option. Making monthly payments on a dental bill is sort of like going into debt. And, some offices will charge you a higher rate for the privilege.
But, when you have no other options, this might be your best option.
Victoria Hyde is a dentist's assistant, having worked at the same dental surgery for 15 years now. Over the years she has learned many things from the team, and the patients. She writes for health blogs and personal finance blogs on the topic of all things dental.