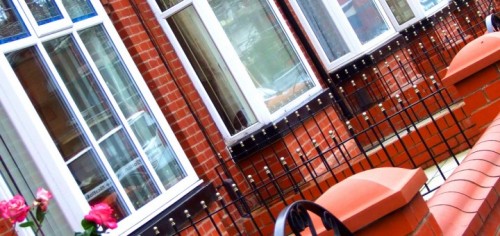 Many people move into the country to escape the hustle and bustle of towns and cities. Others do so simply because it's more affordable in the face of housing market changes.
Across the South–and especially in Kentucky–there are swaths of land and boundless greenery to settle a new home. In some situations, it may be cheaper in the long run to build a new home that fits all of your needs.
As more people look into remote work and relaxed, rural living, you can help them in their search while developing a great investment. Here are a few details to help you understand how a remote workforce can thrive in affordable areas and how their professional growth means investment growth for you.
Working From Home On Affordable Land
As remote work or working from home because easier, at least from a technology standpoint, more people look into moving into affordable areas where their dollar goes further.
Think like a remote worker to figure out what they want, and make your real estate options attractive to these wandering souls looking for a sensible place to create a new home. If it's a low investment for you, it can be a sensible rent or lease for them. If they have room to grow, you have room to earn.
If you're making enough money to own a home in the city, you can usually do a lot more in an undeveloped or underdeveloped area. You don't need to worry about the commute, but you need to worry about the specific services.
If your job is entirely digital and computer-based, your two most important work utilities are power and Internet. Does the idea of the Internet as a utility sound odd? It's only going to become more important as communication, collaboration, and especially production becomes easier to manage across a network.
Make sure that your Internet and power options are reliable. For most remote job options, you can only use the excuse of spotty Internet or flickering power so many times until someone expects you to move, so be sure to ask other utility customers about the service before picking land.
By managing your savings and creating an investment plan for a rural purchase, you can take control of the quality to some extent by paying for a dedicated line to your home. This can cost thousands of dollars depending on the type of service, but this problem is usually limited to rural areas.
If you live in an unlucky suburb or outskirts area where an Internet company hasn't expanded yet, you may have to deal with city policy as well. Asking your utility companies about the area and asking for a company surveyor to visit the site ahead of time can relieve most of those utility-planning headaches.
For businesses that rely on postal services, make sure that you're within decent driving distance from, not just a post office, but an airport. When using private shipments, you may want to work with couriers who either work out of private postal services or have offices near airports.
Although many cities have offices for major postal services, such as FedEx, UPS, or DHL, it's a good idea to be near an airport in case your town is too small for multiple options and in case you need to become the courier yourself. If you're still looking for a remote job, being a courier for areas with understaffed and/or overburdened postal services is a job demand that illustrates how much an issue delivery could become.
Picking Your Zip Code, Neighbors, And Taxes
Contact a real estate agent to discuss land for sale in Kentucky to discuss different land and housing options that fit in with your life, career, or relaxation plans.
Location is everything, and there are a lot of factors outside of natural beauty and proximity to cities to keep in mind. The services available to you because of your home's official zip code and your residency can affect a lot of your life.
For some people, choosing a good school or being close to work is all about driving distance. Unfortunately, some areas limit their services or provide sizable discounts to people based on administrative details such as zip code.
This is often done to preserve services for people who pay taxes for those services. Making sure that an area's tax-contributing citizens gain first or even exclusive access to certain services is a priority for certain areas.
To go with that choice, certain areas may be controlled by a Homeowner's Association (HOA) or otherwise limited by contract. Ever wonder why some people end up dissatisfied with neighborhood decisions after voluntarily buying into a property? It could have been because of terms in their land purchase.
Continuing onto the HOA point, you need to know your benefit and your risks before making any property purchase. If you're moving onto your own tract of land for privacy or freedom purposes, be sure to look over any contracts or sales stipulations beforehand.
If you want an HOA, make sure that the association provides the services you care about and look into their enforcement of rules. Because the concept of an HOA differs depending on the area, and depends entirely on cooperation and enforcement, you need to make sure that issues that could affect property value and quality of life are managed to your liking before entering an HOA agreement.