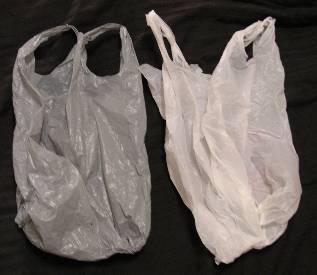 When I look outside the window, I am amazed at how beautiful my neighborhood is. There is a park nearby where I can take my dog and daughter. A library that is a short walk from our home, and flowers in everyone's yards. It seems everyone around me is trying to keep Mother Earth happy and content. Inside most homes, people are beginning new habits in attempts to save money and help the environment. My city gives us a garbage can outside for us to take our trash and also a blue recycling container for our paper, plastic, and aluminum. The three R's of green life are reduce, reuse, and recycle. For me, that means refilling my plastic bottle of water to use all day, keeping lights turned off when not in use and recycling paper at my local recycling center.
It seems grocery stores have attempted to get on the green train by selling reusable shopping bags. Unfortunately, while it seems like the green thing to do, for them, the green is in the money you spend buying the bags while thinking you are helping the environment. While it does seem that plastic is everywhere, you can be more green by using a plastic shopping bag instead of the canvas bag they are selling.
Before you begin to think I am not an earth loving conserving American, I want you to think about the costs and hassles associated with canvas reusable shopping bags. On a typical grocery shopping day, I walk out with about 10 bags of groceries. And that is for my family of three. If I purchased enough bags for my groceries, I would need 15. At my grocery store, they are sold for $1.00. That may seem inexpensive, but there is another added expense when you use these bags. You come home from the grocery store with produce, eggs, meat, frozen goods, and pantry items, and realize your canvas bags are wet, dirty, or covered with leaky meat juice. That means you will need to wash and dry your bags every time you use them. That means more laundry which then leads to using more energy and water to help our environment. Instead of using canvas bags for groceries, use those bags for books from the library, taking toys to the park, or shopping for clothes.
One more reason not to use reusable shopping bags for your groceries, what is the company doing for you? I have never been to a grocery store that had a sign posted with "don't need our bags, here's x amount of dollars off your groceries." Unless they are going to charge you for bags, which some groceries do, don't bother buying the canvas bags at the check out.
And if you're still not convinced, you should know that plastic bags are almost always recyclable, so all you have to do is gather a bunch of the plastic bags and make a trip to the local recycling plant. You won't be saving money per say, but you may actually be doing more of a service to the environment this way than with the reusable bags.
My advice, for what it's worth, use the plastic grocery bags, but more than once. I use my plastic grocery bags to line small rubbish cans in my house, to pick up my dog's droppings, to wrap my daughter's less than stellar smelling diapers, to bring in lunch and at the grocery store where they charge you for it. I do love the environment; but, plastic bags are still my friend (unlike standard light bulbs).