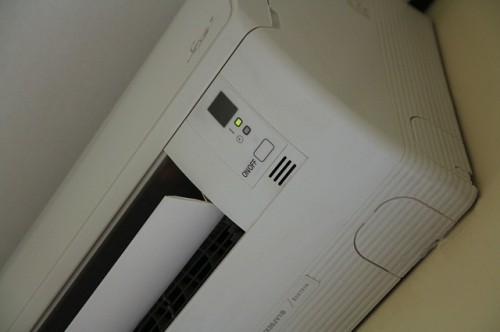 Running your A/C all day long will make your bill skyrocket. At the same time, you need to stay cool. What is a budget-conscious, but sweaty, person like yourself to do? Here's what to do:
Turn Up The Air and Use Fans
You don't need the air conditioning set to its lowest temperature.
Most air conditioning systems, if well maintained, can be operated at a higher temperature without much trouble. When you do this, run a fan. Augmenting your air conditioning with fans will make it feel cooler than it really is. That's because air circulating will blow minute amounts of sweat off your skin, keeping you cool.
As long as the A/C isn't too high, you shouldn't feel much of a difference in the temperature or your comfort level.
Use A Window Unit
Window units can save you a lot of money by cooling just one room in the house, instead of cooling all rooms. If your air conditioner is more than 10 years old, replace it. If the central air is that old, it might be cheaper to run a new window unit.
The U.S. Department of Energy estimates that you would use about 10 percent less energy with a new Energy Star appliance. If you do decide on a new unit, look for the Energy Efficiency Rating, or EER. The higher the EER, the more efficient the air conditioning unit.
Depending on how long you keep the new unit, you could save more than $60 over its estimated lifetime in energy costs.
An energy-efficient model cycles the compressor on and off so it doesn't operate continuously.
If you opt for an Energy Star unit, you should save, on average, 14 percent per year over your older system.
Get a Programmable Thermostat
A programmable thermostat can also help you save money on your cooling costs – especially the newer "smart thermostats." For example, the Nest learning thermostat connects to your existing HVAC system and "learns" your behaviour.
When you leave the house or apartment, it turns the A/C up so you aren't paying to cool the home when you're away. It can also turn the A/C down or up when you go to bed, depending on how cool you like it when you sleep.
It can adjust settings when you're about to come home from work, and you can control it from your smartphone, so you never walk into a blast furnace.
Old-school programmable thermostats can also do this, but they're not always easy to set up. Still, once you've got them set up, they tend to be "set-and-forget" devices.
Install Solar Screens
Solar screens go on the outside of your windows. They can block up to 70 percent of the sun's energy before it hits your windows – preventing the solar gain so common in the summertime. This will dramatically reduce the amount of cooling you have to do since you're blocking a lot of heat from getting to your home in the first place.
Another thing you can do is buy window film. It's inexpensive, and it will help reflect solar rays from the sun so that those rays don't end up passing through the window, heating up your home.
Between these two options, you should see a dramatic difference even without running the A/C.
Camp Out In The Basement
If you can camp out in the basement, do it. It's usually cooler down there, and you won't have to run the air conditioning. It's a simple solution to stay comfortable at night while you sleep. Of course, this really only works if your basement is finished.
If it's not finished, you would have to go through the trouble of installing a floor, ceiling, and insulation – not a bad summer project, but not a cheap one either.
Cook Outside
This is a big one if you're the type of person who enjoys cooking. Fire up the grill and move the kitchen operation outside. Kitchens get really hot, especially in the summer. If you're baking or even just making dinner, you're adding heat from the stove.
And, it doesn't take much. One session of baking will make you feel like you're in the Sahara Desert. Get good with your grill skills, and start prepping meals a week in advance. That way, you can cook and store everything in the fridge for the week. When you want to eat, just heat up a meal and keep the kitchen nice and cool.
Rod emigrated to Australia in 2006 with his wife Tanya and two staffordshire bull terriers, Honey and Jake. Once a keen golfer, 5 handicap, he wonders if he'll ever lose the kilos he needs to in order to swing a club in anger again! He purchased Peninsula Air Conditioning in 2007 and has successfully transformed it into a leading installation company within the Sydney Metro area.