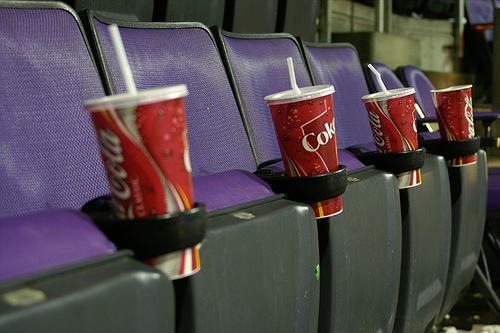 By Mala Lal
Flickr: Ellievanhoutte
Don't you just love going to sporting events?  The crowd, seeing your favorite players, being part of the action is all exhilarating and makes for a great day.  Unfortunately, after you pay for you ticket, it seems you can spend a lot more money enjoying yourself at the event.  With consumers being more conscientious about their money, there is still a way to enjoy your seats without breaking your wallet or trying to figure out where the money went at the end of the day.  Here are some ways to save while rooting for your favorite team.
Food
Don't eat at the game!  Not only is that food incredibly unhealthy for your body, it is extremely unhealthy for your wallet.  Ever notice that after you have spent 2 hours eating at the event you are ready for a meal to celebrate or mourn your team's outcome?  It is because the food you are consuming is not filling or you are consuming a lot of something else (I'll get to that in a minute).  Tailgate in the parking lot with food you brought from home.  Also, some venues will let you bring in your own food, especially if you have a doctor's note saying you have a condition that prevents you from eating anything they offer.  Other venues are simply pleased as punch that you bought a ticket and don't mind if you choose to save money by not purchasing their food.  An empty seat is worse than someone whose belly is filled with their own food.  If you are set on eating with friends, why not pick a restaurant close by, and if the event is on a weekday, try choosing a place that has a happy hour so you can eat and drink on a saved dollar.
Drink
Beer: the root of all evil at a sporting event.  It makes the crowd rowdier, the stands dirtier, and your wallets emptier.  I went to a concert last month, the beers were $11.00!  Can you believe it?  I could have bought a case of beer, drank it in the parking lot and still had a great time.  So we did, the same goes for sporting events.  Tailgating is allowed at most sporting events, so to keep yourself safe and your wallet a little fuller, do the following.
1.  Designate a driver; they will probably get free soda at the event if they tell the vender and you will have no question in your mind that you are getting home safely.
2.  Get to the game early, and once you are walking into the stadium, drink water.  It will make you feel better and perhaps you will remember the game.
3.  Don't impress your date by buying her mixed drinks.  I have seen them priced as high as 7.00 for a well-made drink.
Transportation
Paying for parking is a pain.  You can risk it by parking in an unattended lot for $2.00 or feeling secure that your vehicle won't get vandalized, pay $10.00.  My suggestion, take public transportation.  For 4 dollars, we didn't have to designate a driver and we took the train downtown and caught a hotel shuttle from our original destination to our event.  Fun was had by all.
You don't have to break your bank when attending a sporting event.  So, have some fun rooting for your team and your budget!
What tips do you have for saving money at sporting events?