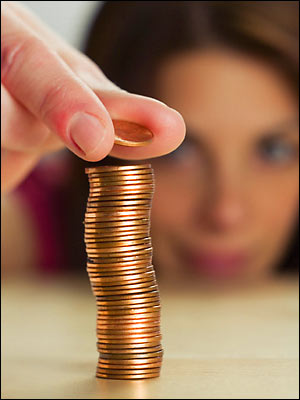 We all like new stuff. Whether it's the latest Wii, a thinner flat-screen, a remodeled kitchen … or anything else for that matter, we're human and we all like new stuff.
Here's the rub though: if you buy it now on credit, you could end up paying for that new stuff many times over, and often long after the original enjoyment has worn off. As the current economic crisis has shown, most Americans have far too much debt in their households. One of the interesting trends we are seeing now, however, is that the trend toward individual and household savings is up for the first time in years.
So, how can you buy what you want and still earn interest? Yes, you read that right, earn interest, not spend money paying off the interest you've accrued.
ü Step one: Stop and wait. You are not going to buy this item right now.
ü Step two: Go to your budget, set a new goal, and decide how much you can set aside for it.
ü Step three: Examine your current spending to see where you can cut back.
ü Step four: Ask others to contribute to your goal.
Doesn't sound like much fun? Well, grow up and consider the following.
Here's how it works
Here are the many ways saving up for things works for you:
You earn interest while you save rather than paying a credit company interest to borrow their money. Why pay them so you can use

their

money? Use your own.
You now have time to the research, check the product's reliability, and shop around to find the best price. When paying cash, you may have more room to negotiate.
You may change your mind, decide you don't want it any more, or you find you want something else entirely. It's not so crazy – it's happened before (you know it has).
In the meantime, you've saved some money, earned interest, and learned a little along the way.
What's the ironic twist?
As more people start and many people continue to save money – putting aside a reserve fund and saving up for the things they want – production will decline as companies reduce their inventories due to the drop in immediate demand. Companies need our dollars to keep producing more, but is that your problem?
No. You don't owe them a single thing and the 'spend money to help the economy' guilt trip is over. None of us are fooled by it anymore. We have to protect ourselves.
What are companies going to do? They're smart, they'll figure something out. Plus, it will be fun to watch won't it?