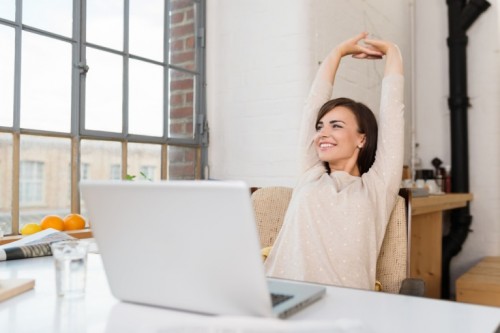 The only way I've been successful at saving money is by having a combination of big, lofty goals and regular rewards. The goals give me a reason to save so I'm less likely to spend out of boredom or feeling the need to "get ahead" when I find a deal (as great as they may be). The regular rewards deliver a small dose of good feeling so it doesn't feel like I'm saving to no end and used to reinforce my decision.
You see, we lose our minds when shopping. Our brains release dopamine to feel good and we've somehow linked that to shopping. Add in how easy it is to shop online and you can begin to see why our culture has a compulsion toward compulsive spending. Plus, marketing and advertising does a number on convincing us to buy, buy, buy, as well.
Whenever I consider a purchase I think of two things:
— What's the lifetime value of this item?
— Does it play into my overall goals?
An example of this would be subscribing to an affordable, a-la-carte cable tv package after an appropriate amount of research. I know I'll get good use out of it for entertainment purposes. The dollar-per-entertainment is very high. The service also helps me to save money from going out too frequently since it's cozy to stay in, make popcorn, and veg out in front of the TV. Win, win as far as investment and savings go.
There are many short, medium, and long-term goals that rely on products and/or services:
— Career (vehicle, insurance, gas)
— Retirement (investment portfolios, caregiving, medications)
— School (supplies, computer, phone)
When you understand your goals you're able to break the process of achieving them into smaller chunks which makes it more likely you'll reach them. Within these chunks you'll notice a need for goods and services to help you along the way. So, by knowing what items align with goals you can better prepare for your financial future, set rewards, and save along the way.
It's this, essentially: You're less likely to be blindsided by an unexpected expense.
I would recommend setting 5-10% of your take-home income (after bills) to go toward rewards. These rewards are little reminders that you're making progress and to ease the mental burden of saving due to an "itch" that's typically "scratched" through shopping.
Small rewards should match the direction you're going:
— A better computer to increase power during studies
— A night out after a tremendously successful week of work
— A weekend trip upon completion of milestone in life
You see what I'm getting at?
The large goals are often enough to motivate very driven people but let's be real with ourselves and own up to the fact we're usually getting there slower. That's okay. The big goals are there to give us a general lane to take while the rewards are like stopping off to "top up" on the mental fuel to keep going.
We've all seen lists like "101 ways to save money". They're good and all but I don't recommend doing the ones that take more effort than what's going to be saved. Focus on the big wins (basically). This is by doing things like renegotiating loan interest rates, cutting grocery bills, and opting for cheaper services.
You've now hit the trifecta:
— Money is being saved
— Money saved is used on the necessities to reach big goals
— Money spent keeps you focused on saving, reaching milestones, and finding success
I guess to sum it up it would be this: Money becomes less of a problem in the journey throughout life when you make it work in your favor – find the correlation between your dreams and finances to find the sweet spot that will make it happen.