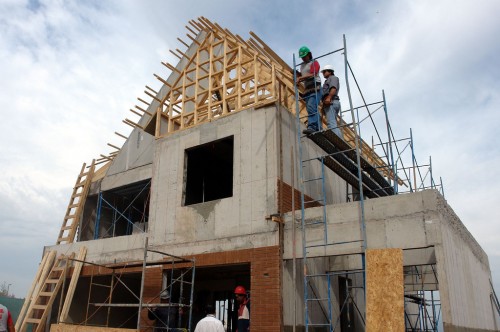 Real estate is a fickle market that makes some people rich and others cry and remain full of regret. However, the real estate game is unlike throwing dice at the casino. There is more strategy to be applied. For example, if you're selling an existing home, there are things to do and others to leave alone in order to make a profit. Should you renovate or leave it be?
Research the Market Value
Your home's market value is a ballpark figure used to project how much it should cost for a new purchaser to own it. You'll need the help of a real estate agent who can give you an idea of how much you can get for your home as it is. From there, you need to be a lot more methodical, for any money you put in, you'll want to make back (and then some). Additionally, a real estate agent will help you determine what areas of the home (usually) generate a positive return on investment.
Renovate the Kitchen and Bath
Some circles believe that kitchen and bath renovations bring the best returns. A master bath and a kitchen make a big impression, and updated areas ensure that new owners don't have to touch them. When renovated well, it also means the previous owner likely made a profit. Of course, the word renovation is subjective. Renovating a kitchen could entail painting cabinet faces or it could be a total overhaul.
Address the Basics
While renovations can be minimal or extensive, an agent will instruct you to address basic needs. Such includes leaky faucets, code violations, and stained carpets. While square footage and the number of bedrooms dictates price, a lot can be said for how a home presents to potential buyers. Assume buyers have options. Unless a buyer is absolutely desperate, they will not have good thoughts about a home with stained carpets, cracks in the ceiling, or dated light fixtures. Such things are easy fixes, and if left untouched, makes an owner, realtor, and home look bad.
Know the Market
Your realtor will provide insight regarding trends and tell you whether it's currently a buyer's or seller's market, a time when one or the other is at an advantage. In a seller's market, an owner can 'get away' with doing fewer renovations and repairs. In a buyer's market, a seller must understand that they are at a disadvantage and must do more to accommodate potential buyers or settle in allowing a home to sell at a lower price. Others are out there who are interested in buying your house fast.
Renovate to Sell
Some owners make a crucial mistake. They renovate an outdated area of the home, which is a good thing, yet they do it in a way that is close to their taste rather than aligned with the current market and modern trends. So, even if a potential buyer comes in and is interested, they may put in a lower offer due to areas of the home they will need to renovate again. It's a horrible situation that makes owners feel bitter about renovations. It's one forewarning to those who want to renovate yet are stubborn in listening to their realtor.
Fund an Upcoming Move
Some people need to make a profitable sale in order to pay for a new home. For example, a couple who plans to sell a condo to move to a home will need all the profit they can get since they're moving to a more expensive space. Therefore, renovations to the condo, increasing its market value, helps the couple fund the upcoming move.
Tracing History
In addition to market value, tracing the history of sales in the area as well as how quickly homes in the neighborhood recur upfront costs, will help you make a profitable sale. Traditionally, it takes up to seven years for a home to recur the 'upfront costs.' This is similar to paying back a loan; at first, one's addressing the interest before the principle. After a few to several more years, an owner is in an even better position to sell at a profit.
Keep Up with the Jones'
Ironically, an owner may overextend on renovation and make a home harder to sell or more difficult to close at the desired price. For example, large additions or extravagant renovations can alienate a home from those around it, making it much harder to demand an expected price. For example, if you live in a neighborhood full of starter homes and ranchers, and you put a second floor on your home and extend the first floor, you're displacing some who would normally invest in the area. Similarly, you may attract those who have the money to buy the home but don't want to live amongst others whose homes are not similar.
Elizabeth Gardiner works as a real estate associate. Always watching the property sales market, she enjoys sharing what she finds on various lifestyle and family blogs.