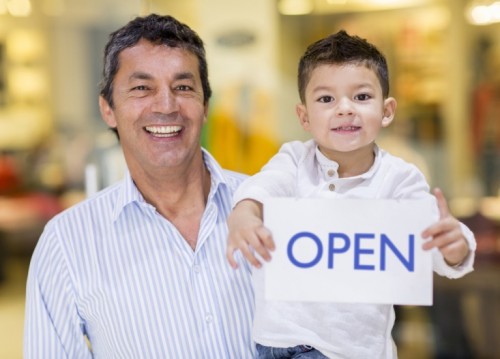 Deciding to start your own business or become self employed is easier than it used to be. In days gone by, you had to find endless amounts of extra cash that you could put towards buying an office or physical store where you could sell products and services if you wanted to be self-employed. Today, you can easily begin working for yourself with nothing more than a computer and an internet connection.
However, just because it's becoming a lot easier for people to launch their own ventures in the modern world, doesn't mean that there aren't a few things that you'll need to keep in mind to help you get started. Here are some quick tips that will help you out.
1) Cash Flow is Crucial
Money is essential to running a successful business. When you first get started, you need to find some money to help you get your business off the ground.  A business loan or even a direct short term loan, and investment from people who want to see your company succeed can give you everything you need to jump into action. However, you also need to make sure that you have a plan in place for how you're going to consistently make money over time.
For instance, think about whether you can sign people up to long-term subscriptions to your service, or whether there's a way that you can keep customers coming back to your store in the long-term.
2) Don't Quit your Day Job
If you're thinking of starting your own business as a solo entrepreneur, or you want to become a freelancer and work for yourself, then it's tempting to give up your traditional career and jump into your new life as quickly as possible. However, while a lot of people are taking the self-employment route these days, it's important to remember that this option won't work for everyone.
Before you give up the security and consistent wages of a regular job, but your idea to the test and find out whether you can make enough money from it. Only when you know your new business is going to be successful should you give up your old career.
3) Find the Right Balance
We live in a world where people are praised for dedicating 12 hours a day to their work life. It seems like everyone is competing to show that they're committed to making their self-employed lifestyle work. While it's important to be committed and dedicated to your new strategy of making money, you also need to find the right balance between your work life and your professional life.
If you're working from the comfort of your own home, it can be particularly difficult to remind yourself that you need to shut off at a certain time each night and focus your attention on your family and your loved ones, rather than your business.
4) Find a Good Mentor
If you're starting your own company from scratch, or you've never been self-employed before and you have no idea how it works, it can be helpful to have someone to turn to who has been through similar experiences to you in the past. Having a good mentor in place will help you to stay motivated and positive when the going gets tough. After all, working for yourself has a lot of positive aspects to it, but it's also worth noting that when you are your own boss, you're also going to have less structure in your life, and you might not earn the same amount of money every month.
A mentor will have been through the same ups and downs as you, which means that they can provide useful guidance and information when you need it most.
5) Stay Focused
Finally, whether you've got a mentor to guide you or not, it's important to ensure that you have the right attitude when you go into your new life as a self-employed person. Don't let yourself get downhearted every time you have a bad week, or you don't earn as much as you expected. There are going to be moments in your life when you struggle to make ends meet – particularly when you're just getting started.
The more time you spend being your own boss, the easier it will be to balance the rough times with the peaks in your work, so you can ensure you always have money to turn to when you need some extra help keeping your business and your personal life afloat.