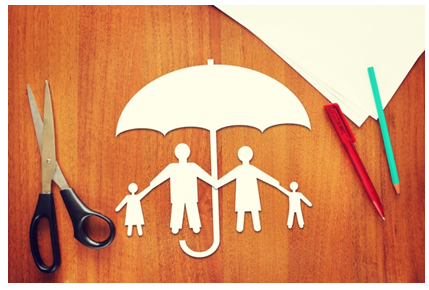 You have made a budget and are sticking to it, and you have regular contributions scheduled to your 401K, but there is more than that to stay on track with your family's financial plan. Did you know that a sound plan for life insurance coverage is just as important? Here is what life insurance can do to keep your family's financial health strong even if you are not there.
Pay Bills
If you die there will be funeral costs as well as any medical bills to pay. After that immediate need, there will be any outstanding household bills to pay, including the mortgage. If you carry a balance on any credit cards you will want your surviving spouse to be able to pay them off as well. Since the typical family has an average of $15,000 dollars in credit card debt as well as almost $50,000 dollars in student loans, paying off bills should be one of the major coverage considerations.
Living Expenses
What are the particular living expense needs of your family? If you have young children you will need to account for some childcare expenses. Ongoing costs for food and clothing, as well as the overall cost of raising a child, will also need to be considered. Another factor is the number of years certain ongoing living expenses need to be paid.
Future Family Needs
What are you and your spouse's goals for your children's education? If you both have been saving for your children's education and one spouse dies, the amount of what they would have contributed will need to be made up. It is a good idea in cases such as these to consult with an insurance agency to ensure that you are getting the coverage to meet your goals.
What financial impact would your death have on your surviving spouse's retirement? Even if you both work, the loss of your contribution will have a negative impact on the overall earnings of your savings. Forecasting an estimate of expected retirement contributions over your career can help you come up with a compensatory figure to account for with coverage.
Keep the Family Business
To keep the family business running, you will need to hire extra help to make up for the lost person and their unique set of skills. If one spouse in a couple run business dies, there may even need to be a temporary hire of extra help while the surviving spouse gets household and business matters in order. Life insurance can also be a vital part of succession planning for a family business.
Life Events
Whenever you change your place of residence, add a family member, or make a substantial change in your employment status, you should check your insurance coverage. That way you can make sure that you are prepared as much as possible for any needs that should arise.
Do not let your family's financial future be derailed by an untimely death. Take some time to put a plan in place to keep you and your family's peace of mind. Be prepared and keep your family's financial plan on track with life insurance.