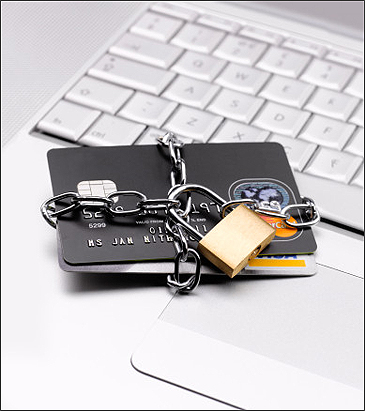 By Michelle Studer
 Even with the best of intentions, credit cards can lead to bad trouble. Whether impulse control or financial desperation is the culprit, many people end up in a pickle over credit card debt. New laws to curb sneaky industry practices were passed late last year; unfortunately, they won't go into effect until July 2010. In the meantime, credit card companies are using every trick in the book to get more of your money, even blaming the economy as the reason for their shady policies. The industry's talking heads make it seem like every Tom, Dick, and Harry is defaulting on payments, although recent reports confirm that just 9% of card holders are in default.
 Don't feel bad if you've fallen for the alluring trap of seemingly free money. Many Americans do. As reported by the Associated Press, CreditCard.com found that the average outstanding U.S. credit card debt per household was $10,679 at the end of 2008. Furthermore, data from the New York Times reveals that 40% of American families carried a recurring monthly credit card balance in 2008 and that the average household had 13 cards.
 Things have only gotten worse in 2009. The credit card companies have chosen to play hardball with consumers in order to protect themselves from future losses, in some cases demanding credit scores of 740-750 for the privilege of charging your next purchase to their piece of plastic. Other tactics include increasing penalty fees, upping interest rates, and slashing credit lines, even for cardholders who have good credit and always pay on time. This is in addition to existing aggravations like the universal default rate, which will be eliminated in 2010 but for now allows companies to increase your interest rate if you pay late on ANY of your bills, even if the late bill payment was on an unrelated account.
 What all of this means is that you should limit your credit card usage (but don't close your existing accounts), at least until the consumer-friendly 2010 laws go into effect. For starters, don't make any new credit card purchases unless: a) it's an emergency; or b) you can afford to pay off the balance in full. Also, pay off any existing balances as quickly as possible to avoid paying unnecessary fees. For example, let's say you have a $5,000 credit card balance with a 14% interest rate. If you only make monthly payments of $100, it will take you 6 years and 4 months to pay off the balance, plus cost you $2,548 in interest fees. However, increasing your monthly payment amount to $500 allows you to pay off the balance in 11 months, which lowers your interest fee costs to $348 – a savings of $2,200.
 In addition, plan to periodically review the fine print of your credit card agreements in order to stay on top of changes to your interest rate and/or credit limit. Card issuers can change agreement terms at any time, and they're only required to give you 15 days' notice of these changes. Finally, make sure your credit card balance stays under 30% of your credit limit. Going above this amount may lower your credit score and increase your interest rate.