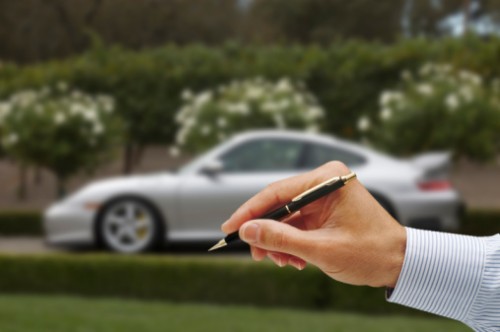 It's the old bait and switch.  Dealers tempt you with the sticker price of a vehicle but after all of the 'hidden' prices are piled on, you're looking at an entirely new number.  It's important to steer clear of surprises when buying a car, or at least know what you'll have to factor in on top of the sticker price to come to a reasonable estimation.
Where's the Spare?
Imagine excitedly driving your new car down the street and spotting a friend.  You quickly pull over to the side of the road to show them your wheels while accidentally scraping a tire on the sidewalk.  Now you've got a flat.  If you don't double check with the dealership or put forth the added money to buy one, you may not have a spare tire (and jack to boot).  There was a time when a spare and jack was commonly found in the trunk but those days are gone.  If you're buying the basics, it likely means you are not getting a spare tire and jack.
Higher Performance and Price
A number of models, labeled performance cars, feature special tires.  The tires provide better steering and handling on the road, but when it comes time for replacement tires, you better be handling some extra cash in your account.  Speak to your dealer about the type of tires needed on your model.  Performance tires may be standard or optional, and you'll have to decide if the special tires are worth the added price.
Three Seater for Kindergarteners
Dealers are accustomed to telling you what you want to hear when buying a car.  If you have a large family or frequently drive others to work, you may need enough room in the backseat.  Be wary of when you hear "three person" backseat.  There may be enough room back there for small kindergarteners but little room for adults.  You don't want a cohort to be scrunched in the middle while wearing their work clothes!
The Expected Extended Warranty
Some salespeople want to squeeze all they can out of the transaction.  It's inevitable that you'll be pitched an extended warranty.  You may hesitate thinking that you need that added insurance and assurance.  However, if you're buying a new car and it has good ratings, you shouldn't need the extended warranty unless you plan on using the car in a demolition derby.  If you're feeling pressured by the salesperson, just tell them that you'll think about it and get back to them.
Raised Rates
If you're getting a loan through the dealership to cover the cost of the car, be clear about the rates.  Some dealers add their own fee on top of the auto loan fee, which makes for a higher interest rate.  You may qualify for a lower rate but the dealer raises it, which puts more money in their pocket.  This is one reason why experts suggest securing a loan or financing before buying at the dealership.  Read more information about saving on hidden fees at http://www.car-buying-strategies.com/new-car-prices.html.
Closing the GAP
GAP (guaranteed auto protection) insurance pays the difference between what insurance will pay and how much is left on a loan if the car gets totaled or is labeled "unsalvageable."  Some get GAP insurance through the car dealer but you may acquire it from a third party.  It's suggested that you shop around; when GAP insurance is bundled in with the auto loan, it adds to the interest.  Moreover, some warn that dealers inappropriately push for GAP insurance when it's not needed.
Tied to an Automobile
Consider whether you need a second car, an upgrade, or if you need an automobile at all.  When you have owe on an auto loan, you don't have money for other things such as retirement, vacation, investing, etc.  Sure, most people have one car or more but ask yourself if you need the car.  For example, can you use public transportation, use car share services, or carpool to work?  Many alternatives exist in modern society yet a lot of people are stuck in the must-buy-a-car mindset.
Expensive Favors
Federal, state, and local governments push regulatory costs onto dealerships.  To offset these costs, some dealers will state they can provide you with required documents such as duplicate title fees, short-term permits, and state ID verification.  However, make sure they are not charging way more than these documents cost if you were to go through the motions at your local DMV.  Some dealers will go as far as to charge triple or quadruple the amount for documents you can get on your own.  They may state that they're paying you a favor by saving you from doing the legwork, yet it can be an expensive favor!
Frances Murray is a retired car salesman. He likes to think of himself as a good guy, and is sharing his car buying and car selling knowledge with an online audience through blogging.