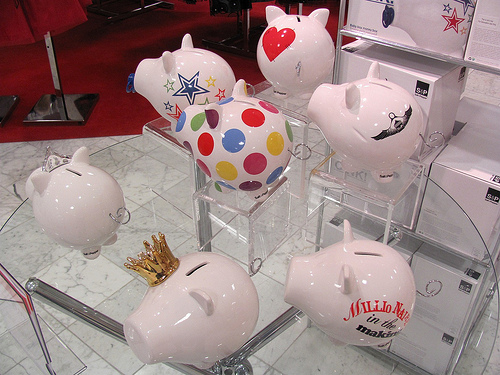 It doesn't matter how good you're at planning – there's always the chance that you'll find yourself a little strapped for cash when unexpected expenses arise.
Though an emergency savings fund is always your best bet, research shows that more than one quarter of Americans are living paycheck to paycheck. So what do you do when the cash runs out?
Luckily, there are a lot of ways to tackle unexpected expenses on a short notice. The simple strategies below will help you find money quickly when you're in a bind. Though not exactly ideal, they'll all legal, safe, and will help you rouse up some money today.
Sell Some Stuff
Perhaps the easiest way to earn quick money today is by selling your extra stuff. A garage sale is the most effective way to do this. Yet it also requires the most planning and preparation.
You can also try selling some of your extra belongings at a consignment store. Though most of these only accept clothing, shoes, and accessories, there are some that will purchase household items and furniture as well.
Another great option for a quick sell is the pawn shop. You can also secure a small loan from most pawn shops. Use a website like www.MyPawn.net to help research the market value of certain items before heading to your local pawn shop to sell them.
Don't feel like going down to a shop to sell your goods? You can also list items for sale online. eBay and Craigslist are the most popular options. Some new, unopened, and gently used goods can also be sold on Amazon.
Find an Odd Job
There are a number of odd jobs available in most cities. These tend to vary from season to season.
For example, in the summertime, you might be able to make some quick cash mowing lawns, weeding gardens, and washing windows. The wintertime is perfect for shoveling snow. Washing cars, scooping dog poop, cleaning pools, and unclogging gutters are other examples of commonplace odd jobs.
Start your search for an odd job in your neighborhood. Ask your neighbors if anyone they know needs help around the house. You can also look online on websites like Craigslist for odd jobs.
Perform Online Tasks  
You're not going to be able to start a profitable online business in a single day. But there are certainly a lot of ways to quickly make small amounts of money online.
Amazon's Mechanical Turk is one of the most popular task websites. Sign up for the service and perform small tasks for a number of clients. These range from writing short descriptions of products to creating captions for photographs.
Fiverr is another great way to hustle up some quick money. Tasks range from editing photos to drawing pictures to writing short blurbs. Be creative. People buy all sorts of crazy things on Fiverr these days.
Use Your Skills
Do you have any special skills people in your neighborhood might be in need of? House sitting, pet sitting, and babysitting are common examples. Dog walking also fits into this particular niche.
Tutoring is another common way to make money fast with your special skills. If you have an area of expertise, try to arrange a tutoring session. There are numerous websites and services available that help connect you with students in need.
Making and selling arts and crafts is another option. Unfortunately, you probably won't be able to make money in a single day. First you'll have to make the items for sale and then you'll have to locate buyers. Websites like Etsy make selling your arts and crafts much easier.
Think Long Term
After you rouse up a little extra money to tackle those unexpected expenses, it's time to create a better financial plan. Even with the suggestions above, making money in a pinch is never easy or preferable.
Start by creating an emergency savings fund. Even putting just $10 into this account per month can have a big impact. If you invest more, all the better. Even a small amount of backup cash can be lifesaving when you're in a pinch.
If you're regularly struggling with money at the last minute, why not consider picking up a side job? Maybe you can work nights or weekends at a local business. Or look around for a few lawns to mow on a regular basis. You might even consider freelancing a few hours per week online.
The simple strategies above will help you make money in a pinch. Find the one that works best for you and then focus on it. You'll soon have enough extra cash to cover those unexpected expenses.
John Reeves has been described as a bit of a Scrooge in the past, but he only wants to do the best for his family long term. Master of 2nd jobs and hustling to pay for extra treats and holidays for the kids he writes about money, and ways to earn more, for various personal finance blogs.