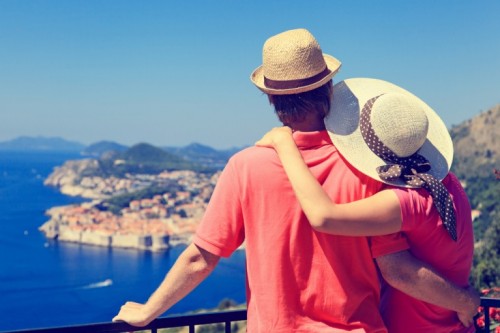 Stress related to money worries are at the heart of many relationship breakdowns and, according to the Institute for Divorce Financial Analysis, are cited as the key factor behind 22 percent of all divorces. It can be difficult, if you're in a relationship, to know who much to merge each of your finances together.
In many instances, problems have emerged because one partner in the marriage has failed to be fully open about their financial situation prior to tying the knot. The sudden emergence of outstanding loans, unpaid debts, gambling habits and other financial obligations months or years into a marriage can easily take things to breaking point.
The situation can be even more difficult in second or third marriages, where growing children may place increasing financial demands on absent parents, especially if they feel they are missing out as a result of the new relationship.
Work Together
Whatever you do, it should be open, honest and with the agreement of the other. If you do merge your finances, there's always the question of whose bank account the money will sit in, particularly if one half of the relationship has bad credit, making a join bank account a poor choice. These issues can all lead to unnecessary suspicion and acrimony.
In our increasingly digital world, evidence of almost all transactions can be found on computers, smartphones, and other devices. As a result, some people can be tempted to try to delve into the finances of their significant other without their knowledge, especially if there is a suspicion that funds are being hidden. Such spying is made tempting by the vast range of gadgets and gizmos that can be used to monitor your spouse, both at home and away, online and offline.
However, most relationship counselors suggest that a far better solution is to talk – either to your spouse or to your lawyer. Even if it's being carried out as the result of genuine concerns or hardship, snooping demonstrates a total disregard for an individual's right to privacy and in many circumstances, may actually be illegal.
What to Do If You Split Up
The fact that internet browsing histories and emails can be erased, and that electronic documents, such as word processing files or spreadsheets, can be easily altered means there are strict protocols about how such information must be prepared if it's to be used in any form of litigation, such as a child custody dispute or divorce proceedings.
Don't install tracking or logging software on a computer belonging to your spouse to obtain evidence of financial impropriety. Doing so means the evidence you gather will lack the objectivity necessary to ensure it is accepted in court. It's also likely to reflect badly on your character, swinging a decision against you.
Should you end up in court, using a professional e-discovery service will not only ensure you receive copies of all necessary documents – even if an attempt has been made to erase them – but it will also mean you have access to professional witnesses able to deliver the information to the court in a clear and concise manner.