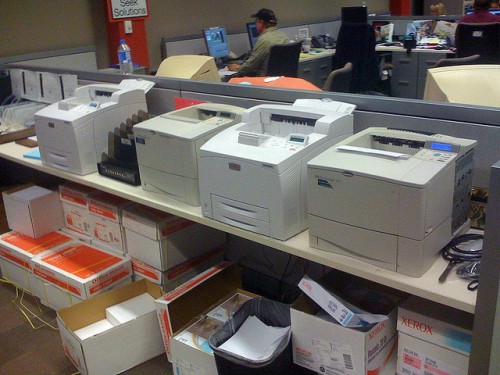 Assessing and managing your printing costs could identify and generate savings of up to 30% o here is a look at some simple ways to reduce your printing costs whilst being able to increase productivity at the same time.
Equipment inventory
A good starting point to identifying your printing costs is to create an equipment inventory.
Depending on the size of the office, you may have a variety of different printing options and equipment spread around the building at numerous different points. Create an inventory that counts and maps all of the different makes and models of inkjet and laser printers as well as faxes, scanners and copiers.
Being able to see all of this information in one place will make it much easier to analyse your printing costs and how efficient your current set up is.
Identify cost savings
It is normally achievable to save money on your printing costs when you go through your equipment inventory and streamline your options.
Streamlining your equipment and models will help to reduce supply and service costs.
Having the same printer model throughout the office offers a cost benefit when it comes to ordering print supplies from someone like Stinkyink.com, as you won't have to stock up on numerous different brands of printer cartridges to keep all of the various printers running.
It can also generate some significant savings if you choose to replace individual printers, scanners and fax machines with all-in-one versions which offers all of these facilities in one place, saving on equipment costs and maintenance.
It also helps that many printers and all-in-one's are available with wireless capabilities, meaning that you can reduce the volume of equipment needed around the office.
Look at what you print
Having identified some potential savings on your equipment, your next task should be to take a detailed look at what you print and whether you could change this in any way to save money.
If you do a lot of document printing for example, it may prove to be more cost-effective to switch from an inkjet to a laser printer as the cost per page should work out cheaper.
Also take a look at whether you can adjust your print requirements so that you print out more black and white documents rather than using colour.
The cost of printing a colour page can be as much as six times the cost of printing that same page in black and white, so if it is an internal document and doesn't really need to be in colour, consider advising everyone to think about it before they press the print button.
Use new technology
There are a number of ways that the new technology available could generate some significant cost savings for your business.
One example of this would be to choose a printer model that allows you to send a scan directly to your inbox rather than having to print it out.
Some printers also offer you the option of being able to email direct from the printer itself, so take advantage of new technology to save money and improve efficiency.
John Sollars launched his printer cartridge supply company back 2002. The company has grown to be one the biggest suppliers in the UK. He enjoys sharing his business ideas online.