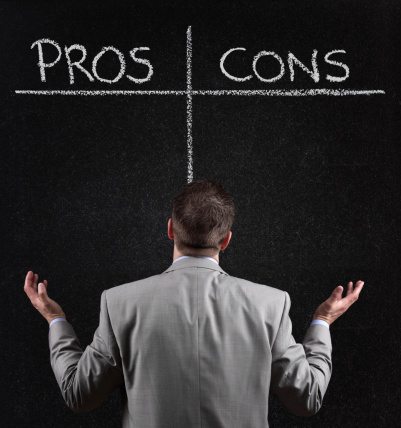 For new lawyers, the idea of ​​simply declaring oneself open to business and going out to look for individual clients can be intimidating. Fortunately, there is another way to start: you can practice as a freelance lawyer, where instead of working directly for the clients that hire you, you will work for other lawyers, doing a job they are too busy to do themselves.
Let's see some pros and cons of the personal finance for this career path, and then we'll delve into the logistics.
Pros of working as an independent lawyer
The life of an independent lawyer has many positive aspects, especially if you do not have many other options! Here are some advantages:
–You will be exposed quickly to a variety of areas of legal practice. You do not know what kind of law you would like to specialize in? Working independently for a variety of different lawyers and learning to do any job that comes in the door (hopefully with a little supervision) will expose you to the realities of many different types of legal practice. You'll be surprised with how different they can be. For example criminal lawyers in Sydney are a completely different world from civil lawyers in Spain. Not only are the jobs very different but their personal finances are also worlds apart. If you have not yet found the right option, exploring new areas of the law (and being paid to do so) can be very beneficial for your career development.
–You will develop skills that you can use in the future, wherever your career takes you. As an independent lawyer who constantly has to learn new things, you will quickly improve your legal resume and your confidence. After you have completed a real estate closing or drafted a trust agreement, you will begin to see that you can learn things quickly when necessary. In addition to substantive legal skills, you will be forced to work on your networking and business development skills, which will only help you later in your career when you are in a more traditional legal situation.
–You will learn how to run a business. In today's uncertain legal profession, having real-world experience in running a business can be very valuable. Whether you are advising new companies or working in the company in a corporate context, having practical business experience will improve your legal practice. And, if all else fails, you'll know you can run a business, making the practice alone much less intimidating.
Cons of working as an independent lawyer
But life as an independent lawyer is not just unicorns and roses. There are drawbacks:
–Much of your initial time and effort will not be paid. As with any new business, you will have start-up costs as you grow, but you will not necessarily have the cash flow to cover business cards, networking lunches, etc. (Not to mention your rent and student loans). While it is possible to start with few resources, it is likely that cash flow will be a problem at first, until your networking efforts start to bear fruit and you are working regularly.
–Your earnings will be unstable and somewhat unpredictable. As an independent lawyer, you probably have moments of celebration and times of famine. If you work on a test kit or aid with a large production of documents, it is likely that you are up to date with the cash. Weeks later, when the test ends and production ends, you may be fiddling with your thumbs waiting for the phone to ring. Although it can soften some of the clumps with budgets and diligent savings, ebb and flow is almost inevitable.
–You will have to be "on call" most of the time. For lawyers to trust you and give you work, you must be available. If this sounds like a real nuisance, and you'd rather have your weekends off, a career as an independent lawyer might not be the best option.
If independent advocacy is a professional path that sounds attractive to you, taking care of your personal finances at the best of your ability while working towards that goal is of outmost importance.