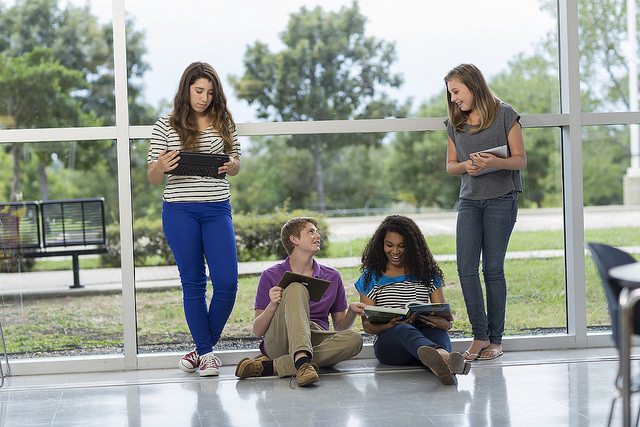 Whether you are studying for your first undergraduate degree or have returned to college in a bid to pursue a postgraduate education, it's no secret that living on a student budget can often be tricky. As a student, saving money is probably one of your biggest priorities, as being low on funds can not only make paying for your living expenses a more stressful experience, it can affect many other parts of the student life and leave you feeling anxious, perhaps affecting you academically and socially. We've listed some of the best ways in which students can tighten their purse strings and save money.
Online Education
Many students are still skeptical about studying online, as it takes away the social aspects of college and can be quite isolating for students who don't live close to campus or aren't sure where to go to meet like-minded students and make friends. However, online study can be an excellent choice for your bank account as when it comes to tuition fees, you can expect to pay around a third less for a course such as this online MBA Oregon. And, there's really no need to worry about the social side of things – you could choose a college close to your home to gain access to the facilities where you can meet others, or even get involved with social events for online students throughout the country.
Borrow Books
If you've just started your college degree, you've probably been given a reading list and are expected to have a good knowledge of each book that's listed on it. However, before you start splashing the cash on new or second hand books, it's a good idea to check out your college library in order to see if they have the books you need available to borrow. Although borrowing books can be inconvenient if you're going to need the text for a number of weeks past the borrowing limit, you could always photocopy the parts of the book that you need, or get there early in order to secure a borrowing extension.
Save on Keeping Fit
At university, there are so many different ways of keeping fit available that there's really no need to waste your money signing up for a gym membership. Many college campuses will have free gym facilities available to some students, so it's a good idea to enquire there first to make sure that you're not throwing your money away elsewhere. However, even if there's no free gym to take advantage of, you could get your daily dose of physical activity by simply going for a run around campus, cycling instead of driving or taking the bus, or even practicing yoga at home in your room. If you enjoy weightlifting, there's still no need for a gym membership as you'll be surprised at the amount of regular household objects that you could use!
As a student, living on a tight budget can often get tricky. These are just some of the best ways to cut your expenditure and have more disposable income at college!