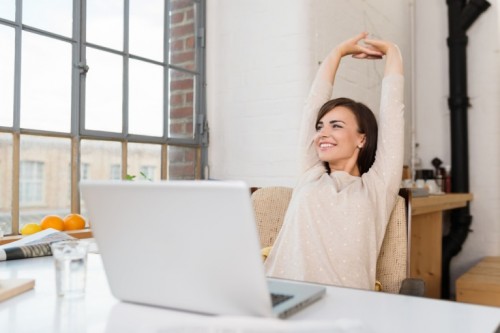 You're in between jobs. Join the club! And although it can be a stressful time, it doesn't have to be a sad sack club filled with sullen members. If you remain hopeful and embrace that this is a truly entrepreneurial time in our country, you will be fine. Of course, you don't want to forego the hour or two of sending out resumes and looking for your next assignment, but that still leaves plenty of time to bring in some green. Need some inspo? Read on for tips on making money while you're in between jobs.
There's an App For That
Of course there is! In fact, there are many apps that allow us to make money either while in between jobs or as a sort of side hustle. From delivering food for Grubhub and driving for Uber to selling your work on Fiverr and simply getting paid to shop with Swagbucks, the possibilities are seemingly endless. What's great is many of these often begin as side jobs but the extra money is so nice, they can also become supplements to our regular income. You don't have to resign from these. You simply have to use the app whenever you have time. Don't know where to start? Use a site like Dollar Daddy for advice.
Clean Out Your Closet
Unless you've been caught under a rock recently, you've likely heard about tidying up with author Marie Kondo. It's taken our nation by storm in fact. People are embracing minimalism buy doing what Kondo recommends, which is holding up our belongings and assessing whether said belonging spark joy in us. If not, pitch them. It's as simple as that. And while thrift stores are enjoying a huge boon, you can also sell your gently used clothes. Look for a high end resale store near you.
Invest in Real Estate
"What?! But I'm in between jobs. How am I supposed to be investing anything?" We get it. The thing is most people assume you have to be flush with cash to invest in real estate but this is far from the truth.
As this Penny Hoarder article notes, you can get started with a company like Fundrise Starter Portfolio with as little as $500:
"You can earn money through quarterly dividend payments and potential appreciation in the value of your shares, just like a stock. Cash flow typically comes from interest payments and property income (e.g. rent)."
And it's not going in blind either, as you can actually see which properties are part of your portfolio. In the end, though, this is an investment and, as such, there is risk involved. But if you can live without that $500, why not go for it? Before you know, you could end up an investment guru, truly understanding how to make your money work harder for you.
Use What You've Got
You're not going to get rich from doing this any time soon, but did you know that you can sell your plasma and even your hair? Hey, a dollar's a dollar! And if you're combining something like this with mad budgeting skills, you could come out on top.
Get Paid For Your Opinion
Much like selling plasma, this isn't going to get you rich, but every penny helps when you're in between jobs. There are plenty of market research firms that will pay you for your thoughts on what products you use and an explanation of why you use them. Just make sure you research the firm with the Better Business Bureau, as there are scams in this arena.
Start a Blog
We don't advise that everyone try this, as it's simply not everyone's jam. But if you've got writing skills, design knowledge, and a passion for something, why not start a blog about it? Like anything else, you get out of this what you put into it. If you hire a professional designer or make sure that you at least choose a professional looking WordPress design on your own, people will be more apt to share your articles. And it takes hard work to monetize it but, with some elbow grease, it can pay dividends. If it really takes off, you might have inadvertently learned how to start your own business.
…
If you're in between jobs, don't panic. Try any (or all!) of these ways to make money while you look and you should be able to remain afloat until your next gig comes through.