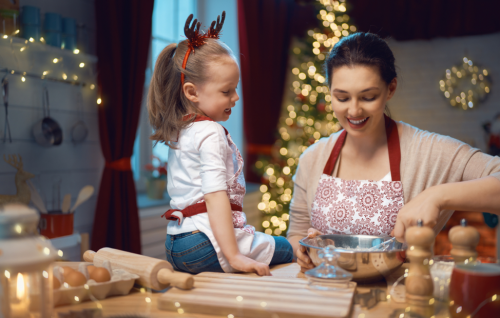 The holiday season is the time to catch up with family and friends, and we often have more guests than usual. Without some organization and forward planning, extra people in the house can become stressful.
If you are getting ready for visitors, you can make entertaining easier by taking a few simple steps prior to your guests arriving. Here are some of the best ways to prepare your home for the holidays, so you can relax and enjoy the time with those you care about:
Food and Drink
Meal planning in advance will ensure everyone has plenty to eat. Stock up your freezer with food and take advantage of any sales. If you have the time, you can even cook some delicious treats for your visitors. Snacks, holiday treats and other nonperishables can also be made or bought in advance.
In addition to food, you will need drinks. Whether it is alcohol, coffee, or soda, buying these items gradually will make it easier to budget. Planning in advance will also help you to avoid the holiday rush at the store.
Clean the House
When visitors are coming over, it is a good time to give your house a thorough clean, both inside and out. While a clean toilet, oven, and bathroom might make you feel more comfortable about having guests over, you should remember that people will be messy. You shouldn't worry too much if your home isn't spotless, as it will likely need to be redone once they leave.
For guests who are sleeping over, giving them their own space with fresh sheets and clean towels will be more welcoming. If you are time-poor, you can find a cleaning service to do a one-off service to eliminate some of the pressure of home preparation.
Create Activities for Downtime
Your visitors will appreciate some of the comforts they are used to at home, and this can give everyone some time to themselves. For example, you could place a television in their room, or a selection of good books to read.
Guest WiFi will help your guests to stay connected with others, and give them a chance to document any memories you share together. This is easy to set up, and having internet access will be appreciated, particularly during longer visits.
A House Packed with Entertainment
How you keep your guests entertained will depend on their ages and lifestyles. If you are having a young family over, you could consider buying or borrowing preloved bicycles, a sandpit, basketball ring, or trampoline to keep their children occupied. Board games can be fun for everyone, and encourage interaction and family time.
Create a music playlist for those quiet nights in, and if the weather is reasonable you can sit outdoors for a change of scenery. Search your local area for activities to get everyone out of the house. During the holidays there are usually more things to do, with something suitable for both adults and children.
The Last Word
Preparing your home for the holidays can be stressful, and it is important to take some time out for yourself to relax. Remember, your visitors are coming to enjoy your company and this is all that should matter.
To make your home visitor ready, consider stocking up on food and drinks, adding some entertainment, and giving them ways to enjoy some downtime!