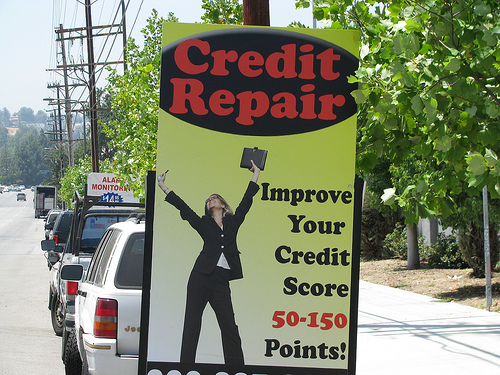 By Heaven Stubblefield
With the economy being a little less than desirable it seems everyone is looking for ways to improve credit.  While it is easy to get rid of a bad pair of shoes, a bad credit score can stick with you for as long as the cycle continues.  Here are some simple tips on how you can improve your credit score.
1. Borrow
If you buy everything with cash, never apply for a credit card, or never use it, then your credit score will stay right where it is – nonexistent.  When I bought my first car the dealer wanted a co-signer because I was 20 years old.  He was afraid of two things: (1) I was too young to make a car payment on my own, and (2) I didn't have a credit score to substantiate a purchase over $5,000.  After some haggling and a nice down payment, I was able to purchase my first car on my own.  So, for first time borrowers, this is an instant way to raise that nonexistent score.  Apply for credit, then use it within your means.
2. Pay
On time!  Just like the bus, you are a happy person when you get to work on time and creditors love when you send them a check on time.  If you are one day late, that gives the credit card company a reason to tattle on you to the three credit agencies.  Don't give them the opportunity.  It will only lower your credit score and make it difficult to borrow later.
3. Say bye bye to rent
If you want buying power, which is what your credit score gives you, stop renting an apartment or leasing a car.  By renting, you are telling credit card companies and your own credit score that you are not committed to big purchases and long term commitments.  While it may not seem fair, you have to have some debt in order to raise your credit score.  The type of debt you need should be in the form of a car payment or mortgage.
4. Call on your utility companies
While it seems silly, your utility companies do not have to do a background check on your credit to give you heat and water.  Most companies request a deposit from new customers.  Give it so you can get water, but then each month, call your utility companies and ask them to report your on time payments to the credit bureaus.  Again, it will improve your credit score.
5. Use your department stores
Most stores offer an in-store credit card application to help you save.  As long as your address matches the address on your driver's license, you will be awarded a small amount of credit.  This helps them keep you coming back when they offer rewards to card owners but also gives you a small increase in your credit score.  The more cards you have that have not been charged off and you are using can help raise your score.  Make sure if they don't offer it to you (which probably won't happen, as they get a commission for each application they file) that you ask for it.
6. Use, use, use…
If you don't use the credit you have been given, your credit score might go down.  During these tough economic times, it is even possible for creditors to withdraw credit if you stop using it or pay a balance off.  That means you should put your groceries and gas on your credit cards and then pay them off every month.  Just be sure to use your credit card at least once a week so you don't get stuck without credit at the beginning of another month.
What tips do you have to improve credit scores?