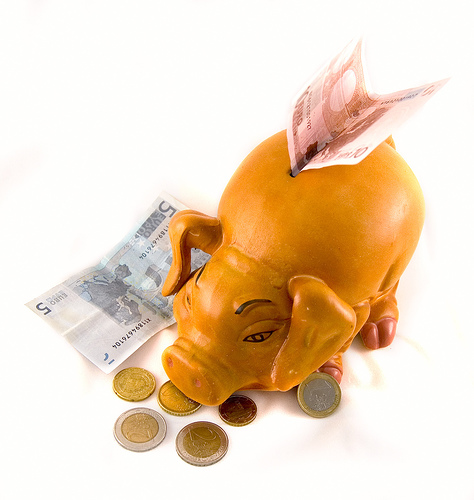 Flickr: Annia316
By Mala Lal
Note:  These are not suggestions that should replace a full time job.  And if you find yourself collecting unemployment, federal law states that this income be reported to your unemployment agency.
As the holidays are approaching, you might find yourself searching for ways to make a few extra bucks this year.  While Thanksgiving hasn't hit yet, I am already thinking about Christmas.  Here are some ways you can find that extra money when you need it.  Happy working!
1. Pay cash.
When I shop for groceries, I take the cash I have budgeted for week to spend.  This keeps me on budget and my kids see me pay for groceries without the swipe of a card.  Any cash that is left over goes into "the jar."  By doing this all year, I stay within my grocery budget but also create a budget for my Christmas, birthday, anniversary, and vacations.  I do allocate some money to these expenses, but the bulk of it comes from the jar.  Every month I empty the jar and put the money into a separate interest bearing account at the bank.  I make extra money by making my money work for me.  I cut coupons for the grocery store and try to stay away from name brand processed foods so I can pay myself for being a savvy shopper.  You don't have to have an extra job to make money, you just make your money work for you and reap the benefits of being an excellent shopper.
2. Recycle.
Aluminum is not only recyclable, it is worth money.  Collect aluminum cans from your school, your house and others without having to put on a suit.  You may feel like a trash digger, but think about the money you can earn while helping the environment.  It also can help you reduce your grocery bills.
3. Hidden talents.
If you are an excellent typist, advertise your services near a college campus.  You just might find someone who is willing to pay you for your speed because it will save them time.  Another hidden talent might be valuable for someone's big day.  As a vocalist, for a long time I would sing at friend's weddings.  That was my gift to them.  If you have a talent for calligraphy, are a musician, or simply have something that is admirable, try advertising for it.
4. English is power.
Thanks to a website for freelancers, I have been able to make some extra money simply because of my ability to research and my command of the English language.  While you should stay away from scams, like "companies" that want money up front so you can make extra cash from home, there are companies that simply help others network and find work for themselves, without paying any money.
5. Sell, Sell, Sell.
While this may not be the most unique, it is possible to make money by downsizing and simplifying your life.  With local businesses willing to barter with you, you can sell items that you have purchased or where given to make some money.  You just might not want to share with whomever gave you the gift that it helped buy their Christmas present.
What are some ways you may generate a little side money?