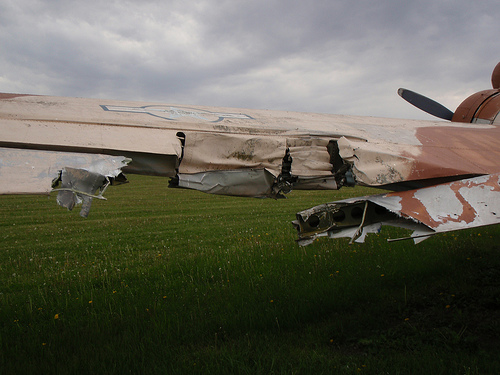 Photo Source: Flickr
I saved up money for a few months and booked a flight to Florida where I would visit friends and my grandma.  I took a day off from work on Friday 2/26 so I could take the earliest flight in the morning and spend the entire long weekend down in Florida.  I booked a 8:30am flight flying US Airways from Reagan (DCA) to West Palm (PBI) where I was going to spend half the day with my grandma who I haven't seen in months, and then spend the night with one of my best friends who I haven't seen in months either.  Then Saturday 2/27 in the morning we were going to drive down to Miami to spend the night with another one of our friends, as well as one of my friends from college was going to drive down from Ft. Lauderdale to spend the day with us as well.  We had this entire weekend planned out something I saved my money for, and was really looking forward to spending the weekend with so many people I haven't seen in awhile.
Then I got to the airport.
The plane got delayed 45 minutes due to maintenance issues.  When the rest of the Northeast had delays and cancelations due to weather, it's just my luck that maintenance was the reason for my delay.  We eventually boarded, and began to go down the runway when the generator blew and the plane pulled up before we took off.  We went back to the gate and got off the plane.  All passengers were confused and they had no spare planes to take us.  We were informed that maintenance was going to work on fixing the issues and the flight was temporarily rescheduled to leave at 2pm.  I received a $5 lunch voucher and sat there for a few more hours.
Around 1:00PM-1:10PM it was announced that the plane could not be fixed and that the flight was canceled.  Of course all the passengers were angry, especially when they said there were no available flights to south Florida the rest of the day.  I waited online and tried to book the earliest flight out on Saturday 2/27 to either West Palm or Ft. Lauderdale and they had no flights available.  The earliest flight was at 2:45PM to West Palm which I tentatively booked just in case I decided to still go.  Then I left for the metro to head back to my apartment, annoyed at what transpired.
When I got home I called US Airways customer service to cancel my flights and to ask for a refund.  I felt the entire weekend was ruined at that point and just wanted my money back so I could figure out a weekend in the future I could try to go down and visit everyone.  I spoke with a customer service rep who said they could not handle this situation, and then after waiting for 10 minutes was put on the line with David, their supervisor.
I politely explained my whole situation to David how that morning I had a flight and due to maintenance issues it got delayed and eventually canceled and I tentatively rescheduled for the next day just in case but decided to just cancel everything.  I wanted no additional compensation, and was very polite in explaining the situation, and all I asked for was a full refund.
He said NO!
He said he would gladly refund my flight down to West Palm because of the maintenance issue, but since I booked two one way trips since I was leaving from a different city, and that flight wasn't technically affected from the maintenance issue, he would not issue me a refund for the flight from Miami back to DC.
Of course I did not understand, especially since my flight back was directly affected by the maintenance issue.  I had no use for the flight back from Miami if I could not get down to Florida in the first place.
He then proceeded to tell me that there was 2:30PM flight on Friday that I was not on and asked why not.  I said you must have been mistaken, the 8:30am flight that had maintenance issues was pushed back till 2PM and was eventually canceled because they could not fix the plane, there was no 2:30PM flight.  He said there was and that my name was recorded as being a no show.  Of course I proceeded as telling him that this was the first time I'm hearing about this flight that must have been put on last minute after I already left the airport after hearing my flight was canceled and that if I knew about it I gladly would have been on it.  But I never new about it and had no idea why my name was recorded as a "no show" like he mentioned since I booked a different flight for Saturday.
At this point I'm beginning to get really agitated and the David began telling me that I'm wrong, and I felt completely insulted and was being attacked by this supervisor when, not me, not the weather, but the US Airways plane was the issue.  I felt like he was handling the situation terribly, make it seem like I was to blame, that it was my fault and refused to give me a refund on my flight back from Miami to DC.
After 45 minutes of dealing with this I had enough and eventually hung up, and called AMEX to dispute the charge and explain what happened.  I had never been treated so poorly from a customer service rep, and could not believe how I was being addressed.  All I wanted was my flight back to be refunded as well so I could look for a future date to try to head down, and instead I felt like this supervisor and US Airways was screwing me over and there was nothing I could do.
I understand stuff happens, and as annoyed as I was about the plane issue and my weekend being ruined, I just wanted my money back and to move on.  What I thought was a simple 5 minute process turned into a 45 minute ordeal with me being screwed over in the end.
I have had many positive experiences with customer service reps from other companies in other industries and was shocked at the level I was treated in this situation.  I hope no other customer had to deal with what I went through, although unfortunately I don't think that's the case.  Hopefully if other people were in a similar situation and were screwed they could feel safe to voice their opinions so change can be made.
Video of My Rant about US Airways Poor Customer Service