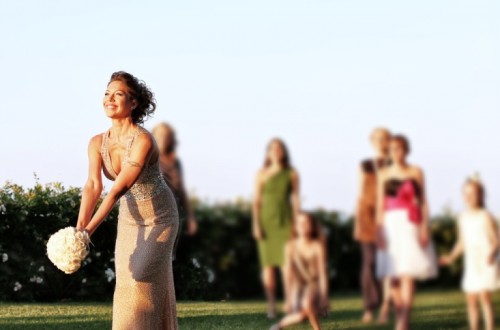 Weddings can be an incredibly stressful time as you have to plan all of the tiny little details, carefully considering friends and family along the way. But one of the biggest pressures you can face as a bride or groom is the financial costs, as these can soon mount up as you start adding bits and bobs to your big day.
With the average cost of a wedding in the U.S. being a whopping $32,641 we've got some helpful tips on how you can trim down the cost of your wedding without sacrificing any of the all-important details.
1. The Venue
As the central part of your wedding, it's important that you find the right venue in the perfect location, but this doesn't have to cost you a fortune. Start by thinking of any spaces that friends or family have that you could use for your wedding day. For example, do your parents have a large field or garden that you could erect a marquee in, or do you have a friend who owns a restaurant? Providing you with the perfect base for your big day, you can then go to town on decorations to bring this place to life, knowing you have had to spend little, if anything, on the actual venue.
2. The Photographs
A critical element in the planning of any wedding is the photographs as these are going to be the lasting memory of the big day, so it's important you don't cut any corners here. However, hiring an expert photographer and/or videographer can be incredibly expensive so why don't you try to limit how long you hire these for to create massive savings?
A great new app on the market is Eversnap, which allows your family and friends to take photos and upload them to the same account so you can collate everyone's photographs together. Sometimes, the best photos are the natural, unposed ones and with all of your guests taking these, you're bound to get a great mix of stunning photos that you can frame or have bound in an album – and all for a fraction of the cost of a professional!
3. The Dress
Another fundamental element in the wedding is, of course, the dress, but this is another area where costs can really start to run away with you. Since you were a little girl you've probably dreamt of the big white dress and have an idea of exactly what you want; but stop right there. Getting your dream dress need not cost you a fortune as there are a number of options available. Firstly, you could deviate from designer gowns, looking at lesser known brands that don't carry the hefty price tag. Or, you could buy a second-hand dress from somewhere like PreOwnedWeddingDresses.com – no-one needs to know where it's from and you'll have a great choice of dresses, at over half the price of a new one.
4. The Food
You're going to want to feed your guests and feed them well but having a formal sit down meal can get expensive, with the hiring of caterers, waiters and so on. Instead, you could opt for something that offers a slightly more unique twist to your day, by hiring a pizza van or preparing a gourmet buffet yourself. There are a number of ways you can half the costs of caterers here and with a little bit of imagination, you can add to the overall impact too!
5. The Honeymoon
This is probably another aspect that you're not going to want to scrimp on, and why should you? If you do want to jet off somewhere special on your honeymoon, why not ask guests for contributions to this instead of wedding gifts? This is particularly ideal if you already live together and don't need house-related items. Simply set up a special account for your guests to transfer money into, or use an online tool like Honeymoon Wishes, an online registry where guests can log-in and contribute to the costs of your holiday!
6. The DJ
Have you got a friend who likes to have a go on a mixing deck? Why not hire them as your wedding DJ? Or, simply get some good speakers and load some of your favorite songs onto your iPod and plug it in for the ultimate disco! All your guests will be after is some good tunes that they can get their dancing shoes on for and it really won't matter if you haven't got the town's hottest band playing, because, let's face it, after a few cocktails, who's going to notice?
Linda Chambers spent 2 years planning her dream wedding, whilst being on a strict budget. She now shares her ideas, advice and tips with other brides-to-be.