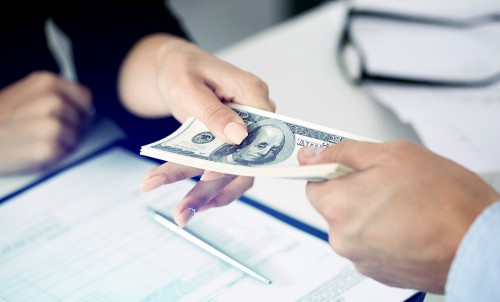 Do you find yourself short on cash? Especially when you need it the most?
Sadly, this happens to most of us. 
What to do when suddenly, an unexpected expense crops up? With all the funds allocated to paying the usual monthly expenses, how do you manage your finances in case of an emergency?
Ask for a credit card limit increase? Ask for an expensive bank overdraft? 
These applications do serve the purpose but are very lengthy, laborious, and can be costly in the long term.
Don't fret! This is where cash loans can be beneficial.
Popularly known for immediate availability, fast cash loans are short-term loans, mostly used for financial emergencies. These loans give you immediate access to funds so that you can keep your finances on track and repay the short-term loan at the end of the month.
Here's how cash loan works?
Step 1 – The Application Process
The process of applying for a cash loan is extremely simple and quick. 
It requires personal, contact, employment and financial details. This useful information allows the lender to access your application and run necessary credit checks.
Lenders will determine your eligibility by checking your history and current ability to repay a loan.
Step 2 Approval
After filling all required fields, the lender will outline the terms of your loan.
Step 3 Disbursal
Once you e-sign the offer, the lender will approve your application, and you will receive your fast cash loan within an hour or on the same day.
Now, let's have a look at the benefits of cash loans.
— The primary benefit of fast cash loans is that you will obtain a loan offer instantaneously, and if approved, you will receive the money on the same day. Fast cash loans live up to their name and are an ideal source of finance when unexpected expenses arise.
— Since the entire process is online, fast cash loans are easy to procure. You can obtain it from anywhere you want.
— Since cash loan is an unsecured loan, it doesn't require any collateral in exchange.
— Your credit score doesn't impact your application of procuring a fast cash loan. As long as you have a stable income, it is likely that your loan will be approved.
Cash loans are certainly one of the most convenient sources of short-term borrowing. However, you need to be responsible with cash loans.
Consider only during times of necessity
Cash loans should never be your go-to option; instead, you should procure them in emergency scenarios. That being said, fast cash loans should be the last resort of emergency funds because if you fail to repay it can severely impact your credit score.
Never opt for a cash loan to buy something you can do without. 
Understand the fees and the cost involved
Not to sound like a broken record, but understanding the fees and cost involved is very crucial. Although it is evident enough, yet many people remain oblivious to the fees accrued when securing fast cash loans.
It might look straightforward, but some lenders present their agreement with deceptive simplistic terms and conditions.
Limit the Borrowing
Do not borrow more than you need. It is very easy to get swayed by the borrowing limit, but that also means a higher amount to be repaid. So, try and limit the amount.
Just because you can have more, doesn't mean you should! The drill is simple – the more you loan, the more you payback.
Keep in Mind the Repayment Period
The repayment period is generally short as compared to the amount to be repaid. So, make sure you repay the loan before the last date set by the lender. 
Most lenders often take advantage and impose high fines for delayed payment.
Now that you know what are cash loans and how do they work. Remember, before finalizing your loan, it is important to ensure that the terms offered, suit your needs and requirements.