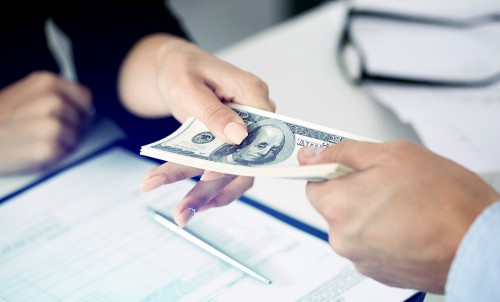 So, what happens when you find yourself in a situation where for some reason you can't pay off your payday loan? Ever been in that situation or is such a situation staring at you? If so, then this is for you.
A payday loan is a short-term loan taken in small amount, $500 or less. The procedure is always simple; you write down a postdated check including the fees plus interest it will earn up to the due date.  Hefty interests are often charged on these loans. The deal though is usually too sweet and the borrower doesn't see the heavy interest until they can no longer pay their payday loans.
When you find yourself in a financial situation, payday loans are often the most convenient way out. So like all of us, it's understandable when you opt for a payday loan. But what happens when you can't settle your payday loan before the due date? Well, we have a few tips that could help you get off the payday loan trap.
What is your probable fate when you can't repay a Payday Loan?
 The payday loan is a trap. Once you're caged in them, there isn't much you can do, some people opt to default from them. Defaulting happens when the borrower doesn't settle their loans on time. This is what may happen if you default;
–You will destroy your credit score, and this will affect you for at least 5 years or more
–You will risk your wages and salary being garnished
–Your future loans will come with higher interests rates
–Your loan can be turned over to debt collectors.
Therefore, try as much as you can to avoid defaulting on your payday loan payment or any other loan.
What to do if you can't pay back your payday loan
If you're trapped in the payday loan, here are some of the ways you can pull yourself out and start the journey towards your financial freedom.
Determine your Debts
Take some time to go over all the documents, receipts and statements you have that are tied to your payday loan. Write them down neatly arranging them in order with the debts having the highest interest loans first and the one with the lowest interest rate at the bottom. The main aim of this method is to device a way to use the least amount of your cash towards the debt. To achieve this, settle the debts with highest interest rates first, because the longer you take clearing them off, the more money you end up paying on interests.
Consider Debt Reconciliation
There is a big difference between a personal loan and payday loan. Consider taking one big personal loan to pay off all your payday loan(s). Personal loans have lower interests charged on them, have longer payment periods, better terms of payments and earns you better credit scores. Even with poor credit it will still be possible to get a personal loan when your credit scores are below 550.
Renegotiate for better Repayment Plan with your Lenders
Whenever you're in such a fix with payday loan repayment, face your lenders for help. Request them to extend the payment plan, lower your interest rates or both. If you want to ask for extension, do it before the due date of your payday loan. Whenever this is done, there are legal documents that will support it. Before you sign against anything, read the terms in fine print so that you understand the new terms that you are agreeing to.
Payday Loan Consolidation
This is one of the best way to get out of payday loan debts fast. Payday Loan Consolidation companies are credit relief initiatives that will transform your payday loans into a single loan payable in one monthly payment at low interest. The loan consolidation company's financial planners will also assess your financial situation and help you develop a sound budget that will serve you best as you pay off your payday loans.
Try Credit Unions
here are many common things between payday loan lenders and credit unions. Credit Unions offer small installment loans whenever you are in a fix for cash.  They also have a provision for Payday Alternative Loan (PAL) for their members. The very first step towards getting a loan from the credit unions is being a member for at least one month. After one-month membership, you can get loans ranging from $200 to $1000 with terms of one to six months. The advantage of the PAL is that their interest rates are far much lower than those of payday loan lenders.
Break Your Savings Account
Consider breaking your savings account and channeling that cash towards paying off your payday loan. The payday loan seems like a small thing at the beginning but can be a monster that can sweep a big chunk of your finances if not well taken care of. Instead of having a lot of penalties slapped on you for not paying your payday loan on time, dig into your savings account and settle the loan. Work on building your savings account immediately after that.
Seek for Help
It costs nothing to ask for help whenever you are in a tough situation. You can seek and find help from credit counsellors, Loan Consigners, friends and family. Schedule for an appointment with the National Federation for Credit Counseling. Give them direct access to your financial situation, explain to them everything in details showing reference with written documents pertaining your loan, they will offer professional advice.
If you are trying to get a personal loan but your credit scores are bad, you might need a loan cosigner. The Loan cosigner can help you get approved for a loan, they are guarantors in case you default. But know that this loan will have an impact for both of you incase anything happens. You can also get help from friends and family. Find a willing member of the family who can step up for you and pay your loan. This is better because they might not want a repayment, or may want repayment but with no interest. The payment can also be relaxed without a fixed period of payment.
What not to Do                                                         
Take another payday loan. Taking another payday loan is a sure way to get stuck in a cycle of loan.
Ignore the Repayment. By ignoring the repayment, you risk your name added to CRB list, destroying your credit scores and paying extra fees and penalties. All these will increase your debt.