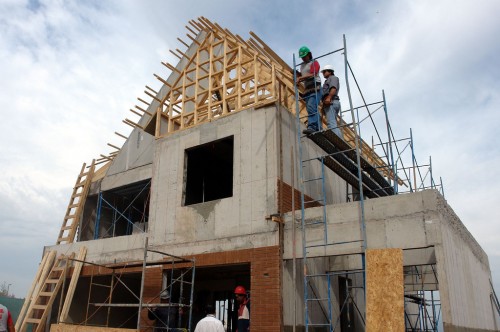 If you are considering building your house then you're not alone. It is estimated that you can build a good sized 3 bed for approximately $120,000.
That's a good price and far cheaper than purchasing a home the conventional way. However, this is still a substantial amount of funds and it's unlikely that you have this much money yourself.
The answer, of course, is to borrow it.
However, you can't borrow funds in the same way as a traditional mortgage, because there is not yet anything to secure the funds on. The answer is to look at corporate finance options and get a construction loan.
The Construction Loan
In short, a construction loan is a loan to build a home. It is usually short term; this is generally a year but can be shorter or a little longer.
You should also be aware that the construction loan is often released in stages. This reduces the exposure by the lender and your payments while you build. You qualify for the next stage of the loan when the build has reached an agreed stage.
These stages are usually as simply as an initial deposit to get your contract started or the initial materials purchased.
Stage 2 is usually the completion of the foundations of your property.
Stage 3 covers the frame as the house starts to take shape.
Stage 4 is when the house is fully enclosed and weatherproof. It will start to look like your new home.
Stage 5 is the final stage which is when the house is completed inside and out. This can often be as much as 20% of your funds.
Some firms will withhold a little to cover any issues after completion.
Once your build is finished you will have a limited time left to repay the construction loan.
As you still won't have magically produced this money you'll need to look at getting a conventional mortgage or some other finance deal.
How To Get A Construction Loan
Lenders tend to be a little wary when it comes to construction loans; there is nothing to secure the funds against.
You will need to have established which builder is going to be involved or in charge of your project and they must be fully certified.
You should also have full plans drawn up and approval for your build; both in terms of building on the land and your actual house design.
It is also important that the plans and final build have been assessed by an appraiser of the lender's choosing. Although your house has not yet been constructed it is possible to assess what is likely to be the final value.
The lender will want to be confident that your loan is less than the final value of your house.
Your deposit
It is worth noting that not all the risk will be with the lender. They are likely to require a deposit from you in the region of 20%. This helps to ensure that you are committed to the project for the duration.