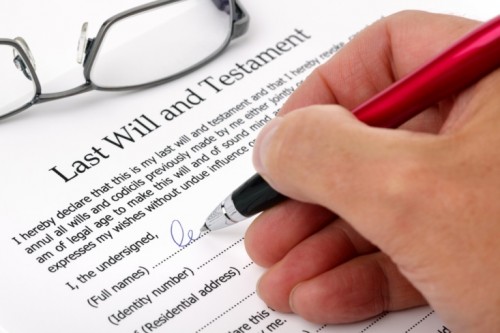 When someone close to you passes away, you don't just have to deal with the emotional and personal elements of loss, but you also have to deal with all the legal side of things as well. Chances are your loved one had a number of assets, such as their house, and they're likely to have had debt that needs dealing with too, such as a mortgage to repay or credit card bills to settle.
It's never nice having to deal with all the upheaval that comes with losing someone you love, but it can be even more complicated if the person didn't write a will before they died. If you're facing something similar at the minute, here's what to do when someone doesn't have a will.
The estate
The estate is the name given to everything that the deceased person owned. So, first things first, you need to find out who's going to be responsible for the estate and to figure out the overall value of it. You'll need to value properties, pensions, savings, shares, valuables and collectables. You'll also need to find out how much debt the person had, such as credit cards, loans and a mortgage. If you need a certain amount to cover funeral costs too, this can be paid for using the estate. Finally, you'll need to work out how much inheritance tax is due.
The administrator
If no will has been written by the deceased person, this is known as a person 'dying intestate'. When this is the case, it's up to the law to decide who inherits the estate and is therefore responsible for settling it and distributing any inheritance at the end. The person who deals with the estate is known as the administrator and if you feel like you or someone close to you should be that person, you can apply for a 'grant of letters of administration'.
You can be deemed suitable to apply to be an administrator if you're the deceased person's next of kin, such as their spouse, civil partner or child. However, you can't apply if you're the person's partner, but you were never married or became civil partners. Unfortunately, you're not automatically entitled to anything in this case.
Probate services
In the absence of a will, applying for a letter of administration to deal with someone's estate will allow you the same rights as a grant of probate would. Therefore, legally, you can now begin the process of settling the estate. This can be a tricky and time-consuming task, especially when a will hasn't been left, so it's advisable to seek professional help from an expert such as Beyond who can offer advice and guidance on what to do next.
Distributing the estate
Once all payments and bills have been settled, there's then the task of distributing assets and inheritance to those who you believe it should go to. When there's no will left behind, this can be difficult and has the potential to cause tension between the friends and family of the person who's passed away.
There are different rules for each country in the UK when it comes to determining who's entitled to what in this case. So, again, it's best to seek the help of a professional, such as a solicitor or probate specialist, to make this process as smooth as possible.