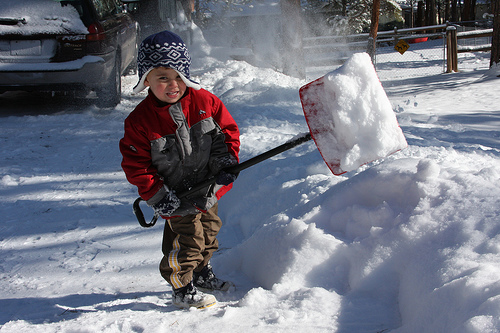 Source: Flickr
It has been quite the cold winter so far throughout the whole country, specifically in the northeast.  Coming from NY and going to school in PA I am used to frigid temperatures and an abundance of snow during the dark months.  I never have even really minded cold weather, I actually look forward to it, it helps me appreciate the summer months when they come.
Now the past two weeks its been freezing down here in the DC area, something I wasn't expecting when I first moved down.  And with wind chills putting the temperatures in the teens, I'm getting sick of it quickly.  We even had the highest snowfall in 40 years a few weeks ago.  Considering it never snows down here, all I had were two dust pans to scoop up the snow to clear out my car, not fun at all.  It's something I haven't had to do in awhile.
After reading Centsible Life's post on how she hired kids to shovel her driveway so she could spend more time with her family and getting stuff done around the house, it made me chuckle and think about my own childhood growing up in NY in the winter.
I used to love when it snowed as a kid growing up, because I would get to shovel it.  No, I didn't look forward to my parents forcing me to shovel my own driveway, but after I was complete with that I became my own little entrepreneur.  either by myself or with a friend I would walk around the neighborhood trying to get hired to shovel someone's driveway.  I did my research and would target the elderly in the development, who sometimes even if they had a plow scheduled to come would cancel it just because they could not resist a cute kid.
I would negotiate although t his is where I struggled, I never knew the appropriate dollar amount to ask and felt bad trying to get as much as I could.  I usually would charge $15-$20 and with one other person, would work hard to get it done fast.
Three houses shoveled later in the day, I would be completely exhausted, and more importantly $60 richer give or take.  That was a lot of money growing up, a solid days work.  Not just that, it really was hard earned money, something that really taught me the value of hard work and what it takes to make a buck.  I don't remember if there was something specific I saved for or just wanted to have extra spending cash just in case, but I can assure you I didn't just throw it away.
Now that I'm older I miss those snow filled days, and snow now becomes more of an inconvenience than anything else and I hope the kids today still take some time from the computer and PS3 to try to work hard and make some money on days that it snows a lot.  Because it really can be a kids financial dream.
Did you used to shovel snow as a kid?