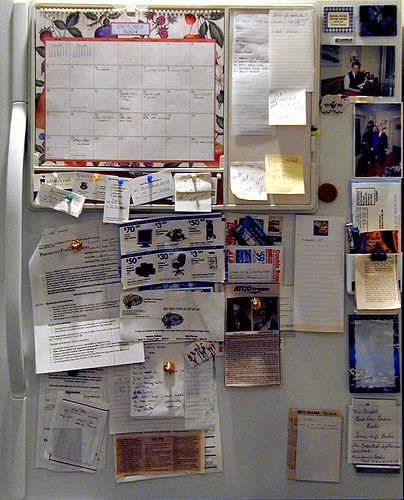 Flickr: Striatic
By Heaven Stubblefield
When I first went off to college, my mother once told me to do my grocery shopping at stores where the elderly shop.  Her reason: the elderly, who are on a fixed income like social security or a pension, are very thrifty shoppers.  So I began finding those people, and then did my shopping there.  Unfortunately, their pension or retirement must have been a lot more than my starting salary, because I was gasping every time I checked out of the grocery store or went clothes shopping.  So I began purchasing the Sunday newspaper and shopping at Walmart for clothes.  But even then, cutting coupons for the 3 or 4 things I would buy that were there was not cutting my bill.  Fortunately, today, the internet makes it easy to find savvy shoppers and the best deals in your neighborhood.  Here are some sites that will help you with various types of shopping.

Grocery Store Shopping
Coupons.com is a website that enables you to print coupons on your computer.  It is a free site, thanks to companies advertising.  As long as your grocery store accepts these types of coupons, you are good to go.  You won't have to worry about your store acknowledging the sale because when you go to the site you enter your zip code and can see sales happening in your back yard.
CouponMom.com is another website that will help feed your family, both inside and out.  With offers like links to discount gift certificates to your favorite restaurant and printable coupons for your grocery staples, you are sure to save money on this free site.
Department Store Shopping
If you are shopping online, CouponCabin.com offers specific instructions on how to save at your favorite department or clothing store.  For example, it will list promo codes to use when checking out online and their staff checks at least 3 times a day to ensure the codes work.  An added bonus to this website is that they email you on Mondays with the latest deals and offers.
Finding Savvy Shoppers
Fortunately, you don't have to leave home to find savvy shoppers.  In a world where people do enjoy giving advice, advice abounds when it comes to shopping and saving money.  Most of the coupon sites listed above have forums where people can share their news or successes in the trenches of retail.  Whether it is a deal that might make a night out less expensive (and therefore more enjoyable), or a post about milk being on sale, people are out there to help you save money.
If you consider yourself a savvy shopper, then most likely you are surrounded by the same in your circle of friends.  And if you are a mom, that gene became stronger with the birth of your child.  Talk about money with your friends, whether you saved or splurged, and you will get advice from them on their saving successes.  Enjoy helping yourself and other.  Saving money is an instant gratifier!