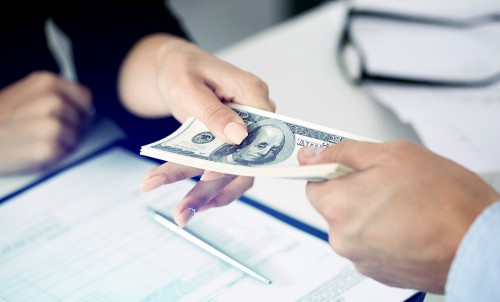 No one can predict an accident, injury, sickness or any emergency. During these hard times, you lean on your savings to pay for the medicines, hospitalization and other billables. But, this money may not be enough to cover all expenses. Or, you haven't saved anything yet due to other reasons. This puts you in a difficult financial situation that might put required medical attention on hold.
Trying to deal with an emergency with insufficient savings or no funds at all can be very stressful, especially since a few hours or days of delay in medical assistance can mean the difference between life and death. You have your family, relatives and friends to rely on but extended help may be limited. Your employer may not also grant cash advances as internal company policy, and your insurance may not cover the emergency.
When nothing works, there are loans you can take advantage of without signing hundreds of papers, standing in long lines and waiting for multiple layers of approval that can take days or weeks. The lending industry abounds in suppliers that provide quick loans minus the hassle of going through the regular loan process followed by financial institutions. Also, some lenders require fewer documents, expedite verification process and disburse net proceeds as fast as within 24 hours of loan application.
Here are several loans you can apply for to get much-needed money for any emergency.
Instant Loans
Some lenders offer quick loans within an hour after loan application and confirmation. This type of financing is usually processed online or by installing an app so you won't have to travel to an office just to sign papers and wait for your cash. Probably, it is the fastest way to process your loan in a paperless way.
Instant loans are unsecured, personal loans that are usually made for small amounts. For applications, you can search the Internet or the App Store for verified lenders. You just need to fill in your personal information, employment details and references. Also, most service providers require you to upload valid ID or connect your account to your social networks for easy verification. After posting your info, a sales agent calls you to confirm the details you sent.
For a first-time loan, lenders usually allow you to borrow the minimum amount for a short period of repayment. Your credit limit will grow when you pay on time and borrow more often. Cash proceeds will be disbursed to your bank account, remittance center or bill payment counters. You can repay the loan through the same payment channels.
Since these loans are unsecured, interest charges are higher than regular rates and are computed on a daily basis. However, several lenders offer lower interest rates for trusted borrowers. Also, penalties and surcharges for late payments are hefty. Ensure you can pay on or before the due date to avoid incurring additional costs.
Secured loans
Instant loans may not be enough to cover expenses relative to your emergency. When this happens, you can opt for a higher loan offered on secured personal loans. Lenders are more willing to disburse higher amounts of money when loans are backed by collateral. The collateral provides a guarantee that the loan will be repaid in full if the borrower fails to pay.
The process is similar to instant loans except that you need to surrender the proof of ownership of your collateral or security. Also, you need to sign an agreement that transfers ownership to the lender in case you can't pay on time. Collateral you can use to secure your rv title loans includes jewelry, vehicles, time deposits, stock certificates, luxurious watches and even expensive smartphones.
Service providers grant lower interest rates and longer repayment terms for secured loans due to risks reduced by the collateral. The loan proceeds are usually valued at the recoverable amount of the security offered. If you need a higher amount, you have to surrender more valuable collateral. You can check with certain vendors that allow pre-qualification of loans and computation of approved amounts on their websites.
Credit Unions or Cooperatives
A credit union or a cooperative is a financial institution that is controlled and owned by its members. It is created primarily to spur economic growth by providing financial services to its members. It provides banking services like deposits, loans, retirement accounts, insurance and investments. Annually, its net surplus is distributed back to its members through a patronage refund based on loans taken and interest on share capital based on percentage of ownership.
Getting a loan from a credit union or financial services cooperative is easier than getting approval at traditional banks or other financial institutions since they offer flexible payment terms and various loan types. Also, their loan portfolio offers quicker ways for a member to borrow money from the financial institution. A back-to-back loan can be taken by securing the loan with a deposit or investment account. An unsecured emergency loan is granted by borrowing a certain percentage of the share capital. And a salary loan can be easily borrowed by submitting post-dated checks, signing a memorandum of agreement with an employer for automatic deduction or surrendering the payroll ATM card.
Every time you borrow money from this financial institution, you'll get a return of the interest payments through a patronage refund which is added as part of the dividends distributed annually. Also, interest rates are competitive in this industry, so do not worry that you'll be paying more than you should have with a bank.
Credit Card Cash Advance
Borrow from your credit card if it is your last resort. You can swipe your card to pay for hospital or clinical services and medicines. For institutions that do not accept credit cards, you can borrow money by using the cash advance feature of your card. This instant cash means a hefty service charge for every transaction, on top of the interest you'll incur if you can't pay on time.
Lessen your worries when emergencies come. Whether you have savings or not, there are ways to borrow money from several financial institutions. Just ensure that you have read the terms and conditions before signing a loan agreement and pay your repayment amount on time to avoid costly penalties and other charges.